Introduction
This session, recorded as always was an opportunity to find out more about using BlackboardCollaborate from the moderator perspective including both features and strategies . As with the precursor Elluminate there are many tools and features available to the moderator that are not visible to participants. Although in my personal opinion there are a number of ways in which BbC is less "user friendly" and less conducive to smooth session flow than its predecessor. This is still my opinion after regularly using BbC as a moderator since its inception almost a year ago. In my work context I still use Elluminate – as this is easier for my students (adult literacy/numeracy).
The Session
This session was a "walk through" and "play with" some of the features available to moderators that are not available to participants. We were a very small group which provided opportunities for discussion and dialogue about the various features and their use. I started as I often do with a poll on where people were coming from on BbC and a "what would you like to takeway".
In these sessions I always give everyone moderator privileges, this usually leads to interesting effects as people are unable to resist just "playing". However with the small number of us this did not arise. Throughout the session we discussed some of the positive and negative aspects of particular tools/features.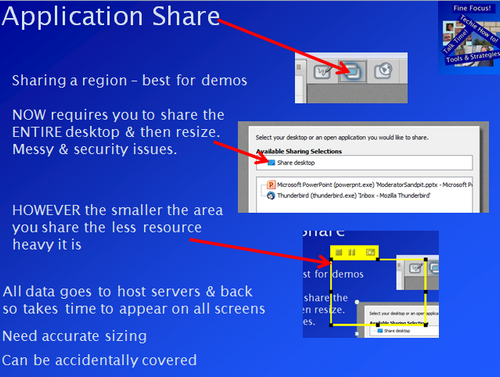 During the session we discussed and played with:
whiteboard tools
whiteboard object menu allowing monitoring of "who did what"on the whiteboard
loading slides/whiteboards
layers on the whiteboard as a means of managing access to live links
saving whiteboards & chat
application sharing with particular respect to the least bandwidth/resource heavy strategy
managing access to tools for participants both as a group & individually
webtours, managing participant movement around the site
managing access to the session (eg removing a participant if necessary)
using the timer
managing screens through the Explorer window
polling
Throughout we were both demonstrating/experimenting with tools and also talking about how they can be used with students for: monitoring participation; estimating engagement; technical support and a variety of other activities.
Conclusion
This was an excellent session – despite or perhaps in part because of the small number. Many questions were raised and (mostly) answered. I always enjoy sharing my own strategies and how I use the tools to work with students as well as giving others the opportunity to explore the moderator features.
Next Webinar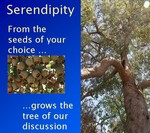 Our next session will be an Edublogs "Serendipity" session on Thursday April 26th at 23:00 GMT/UTC (Afternoon/Evening USA) or Friday April 27th at 7am West Aus, mid morning Eastern States Aus depending on your timezone (check yours here) – in the usual BlackboardCollaborate room. This is one of our fortnightly unconference sessions where we invite you to bring along your "hot topics" and "burning issues" for our poll on the topic.