Introduction
As always we recorded this session in which we took a look at some avatar making tools in one of our "quick and easy tools" explorations. These are occasional sessions where I put up a list of 5-10 tools and each participant chooses one (preferably one unknown to them) to explore for ten minutes and then give feedback to the rest of us. The first time I did this the tools were a mixture of different functions however more recently I have chosen ones with similar purposes.
My personal rationale for "ten minutes to explore" is that if it takes too long to "pick up" the basics of using any tool then the focus of the "lesson" in which it is being used may change from the educational purpose to the tech being used. In other words we risk using "tech for tech's sake" rather than as a tool to achieve the educational purpose.
The Session
The tools explored in the session were:
We started with a have you used it and to what degree on the five tools to be explored. This revealed that most of us had some awareness of, or familiarity with at least one or two of them and a couple were reasonably familar with all.
The next step was for everyone to choose an avatar maker to explore and then explore for ten minutes with the following considerations in mind:
how easy to learn the basics
how engaging to use
a lesson/context in which to use it
whether they personally would use it with students
After the ten minutes everyone came back, added their avatars to the whiteboard and talked about the ease of use and other features of the tool they had explored. We did have someone drop out and be unable to rejoin when trying to add their avatar – the avatar is still in the composite image.
Throughout the whole session there were lots of links shared in text chat and on the whiteboards: to avatar making sites, to sites which list avatar creators and to sites which illustrate many creative ways of using them. After the session Jerry Blumengarten (@cybraryman1) added a "My Avatars page" to his already amazing collection of pages of useful education related links.
We finished with some feedback and a look at our best takeaways from the session.
Conclusion
This was great fun! Everyone always seems to enjoy sessions like this. Those of you familiar with the webinars will know I have something of an obsession with making them as interactive and "hands on" as possible and from that perspective these tool explorations work really well. Avatars have been on my mind a lot at the moment as I have been looking for an easy to use creator that my not necessarily very techie distance students can use. I would love to give them a list and let them choose but needed to fix on one so that I could do a stepwise process as in this slideshare for them to refer to. The challenge with wholly online students is very much that the lecturer (teacher) is not there standing behind and able to coach them through the steps. I do do this individually with Application Share in BbC/Elluminate however my students are often working asynchronously so we are not in virtual class at the time they have the problem!
Next Webinar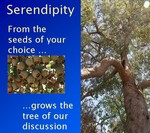 Our next session will be an Edublogs "Serendipity" session on Thursday March 29th at 23:00 GMT/UTC (Afternoon/Evening USA) or Friday March 30th at 7am West Aus, mid morning Eastern States Aus depending on your timezone (check yours here) – in the usual BlackboardCollaborate room. This is one of our fortnightly unconference sessions where we invite you to bring along your "hot topics" and "burning issues" for our poll on the topic.