Introduction
Again, I am still lagging well behind the events in posting webinar overviews. So as with my last post this week is a a catchup with topics and recording links for several recent webinars
If it's on the Internet it must be true! (27/28 June 2013)
This recorded session was a FineFocus session in which @philhart took us on an exploration of the quality of information on the Internet. We shared our own concerns and Phil highlighted some of his. Phil also shared some the ways he assesses/evaluates the quality/credibility of information he finds and invited us to share our strategies.
Serendipity
A very active  session – recorded as always in which our intention was to look briefly at all three of the suggested Serendipity topics. However discussion was lively and extended about the first two, so we didn't actually reach the third! The two topics were:
How do you re-charge your batteries? (prompted by end of school year for several of us)
Who gives PD to those who give PD? (this extended into a look at the ways we access PD).
Both topics gave us full whiteboards and we ran out of time before reaching the third topic "Is numeracy and maths really a poor cousin to literacy?"
Curation tools
One of our semi-regular FineFocus recorded sessions in which we explore a few apps with similar purposes and share our ideas on their ease of use, potential for engagement and possible use with students. These sessions are always great fun and very practical as we each find out about a different tool and then share our thoughts.
Another Serendipity!
This was another recorded session facilitated by Jo (@jofrei) and Sandra (@Marndon). Both the other Jo and Phil went AWOL to present at a conference! The topics explored were digital stories and ideas for "five minute fun fillers" for whiteboards.
Why/why not? Twitter, Facebook, Google+, LinkedIn
In this recorded session we discussed why or why not we each used one or more of "the big four" social media platforms and also looked at our activity levels and our particular likes/dislikes for each of them.
Conclusion
My apologies for the very short topic descriptions! I hope to return to more complete overviews soon!
Our Next Webinar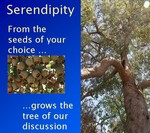 Our next webinar will be an Edublogs "Serendipity" session on Thursday Aug 1st at 23:00 GMT/UTC (Afternoon/Evening USA) or Friday Aug 2nd at 7am West Aus, later in the  morning Eastern States Aus depending on your timezone (check yours here) – in the usual BlackboardCollaborate room. This is one of our fortnightly unconference sessions where we invite you to bring along your "hot topics" and "burning issues". We post these on the whiteboard and then choose the topic for discussion by poll.