Stop Press – last two days of voting #eddies!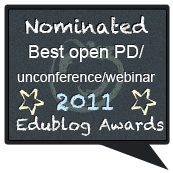 We have been shortlisted for the Edublogs awards Thank you so much if you nominated us. And thank you also if you are voting for us.
ONLY TWO DAYS TO GO – deadline 11:59pm US EST Tuesday 13th December. That's the early hours of Wednesday morning in Europe and late morning/early afternoon Wednesday here in Australia  if you would like to vote for us (Serendipity/FineFocus Webinars in Edublogs award)s click HERE to go to the site, see nominations and cast your vote.
Online End of Year/Christmas Party
We invite you to our End of Year/Christmas Party on 15th/16th December – come along with virtual "goodies" for the festive table, and if you feel inventive bring a game to share and play. Take a look at the overviews for our parties in 2009 and 2010 to see the sorts of things we do. After the party the webinars will be taking a two week break returning on 5th/6th January with the first Serendipity session of 2012!
Introduction
Apologies for the delay in posting – despite starting leave at the end of Friday I have been finishing off a variety of work "loose ends" over the weekend. My holiday begins appropriately with this post. We had a fun session – very Serendipitous and, as always, recorded (though I was a bit late starting the recording – I don't seem to get a recording reminder in BbC11 as I did in Elluminate10) so you can catch up on what we did it if you missed it!
The Session
We started as usual by putting our topic ideas on the whiteboard and then polling to choose the topic for consideration. The winner was "End of year activities".
Once the topic was chosen we used a whiteboard to collect some of our ideas and thoughts on this including some links. As usual ideas were also shared via text chat and audio. There were many ideas with Christmas themes around the 12 days of Christmas and collaborative activities such as drawing a snowman. This prompted the sharing of the "Drawastickman" link by Carole (@Coach_Carole).
Never one to pass up an opportunity for playing I opened the link and App Shared it so that we could play out the story collaboratively by taking control of my desktop and taking turns to complete a stage in the story. This was great fun – working via someone else's desktop is a huge challenge because of the inevitable lag time. Drawing is particularly hard because of this lag and everyone did a great job as we finished the story.
Drawastickman is a nice toy to play with and would be even better if there were a variety of scenarios/themes leading to different stories!
Conclusion
This session definitely put me into a holiday mood! Now I have to come up with a good online game for the party next week.
Our Next Session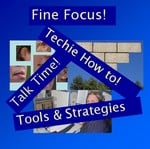 Our next Webinar is an Edublogs "Fine Focus" session, in which we let our hair down for the "End of Year/Christmas Party" Bring "goodies for the festive table and if you feel inventive an online party game and join us on Thursday December 15th at 23:00 GMT/UTC the time for you will vary depending on your timezone (check yours here) Thursday afternoon/evening in the USA, late night Thursday in Europe, and Friday morning December 16thd in Australia – in the usual Blackboard Collaborate virtual room. Remember we have a two week break after the party and will return on 5th/6th January with the first Serendipity session of the year