Introduction
This week's overview is a strange experience for me! I wasn't there in the session (I was laid low by a migraine) but am still writing an overview. I can do this thanks, of course, to the recording, technology is a wonderful thing!
The Session
It was one of those Serendipity sessions that happen occasionally where we don't have many participants and so it is much more of a chat than a formal session. For me one of the strangest and most frustrating aspects of only being a spectator after the event was that I so much wanted to join the conversation!
The discussion was mainly around issues of anxiety in teaching and learning maths with digressions into wider considerations of teaching and the need for teachers to be learners as well as teachers and to work across learning disciplines. Again the discussion turned as so often to motivating and empowering colleagues as well as students. The question of teacher burnout and the balance between the risk of stalenes/boredom and being overwhelmed by the workload was also raised.
Conclusion
For me as a listener after the event this was a very thought provoking discussion and one where I was longing to take part. Because this was so much a "conversation" the discussion was almost entirely through audio with some text chat and for me it was a session well worth listening to.
Next Week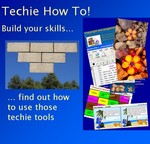 Our next Webinar is an Edublogs "Fine Focus!" session a "Techie How To" on getting the most out of Elluminate Webinars from the participant's point of view in "Be an 'Elluminated' participant". If you would like to know more about the tools and options available to you when you attend an Elluminate session, or about how you as a participant can help the session flow more smoothly then this session is for you!
Join us on Thursday June 3rd at 23:00 GMT/UTC (7pm USA EST, Midnight BST) or Friday June 4th at 1am CEST,7am West Aus, 9am NSW, depending on your timezone – in the usual Elluminate room
.