Introduction
In this recorded session we took a look at if, and how, we use/have used e-polling or surveys. The idea for this session was triggered when I used a poll in the overview for last week's Serendipity and wondered about the different polling and survey tools that people use.
The Session
We started with a look at whether we had used polling/surveys either as a respondent or as an information gatherer. Then moved on to the platforms on which we have used them, finding that most of us had used polling/surveys on one or more of: Twitter, Facebook, blogs, mobile devices and of course "Other" including Learning Management Systems, Elluminate/BlackboardCollaborate and email!
Then came the most interesting part of the session where we started to look at tools we have used and/or that we know about. We began this by using a whiteboard to name those tools we have used as information gatherer, and as respondent and also those we have heard about.
Next came the best bit where members of the group shared an experience of using a poll/survey tool, We had brief looks at GoogleForms (including a quick play), Facebook, Flubaroo and PollDaddy before running out of time and moving on to our best takeaways from the session. This session flew by and we reached the end far too soon!
Conclusion
This was so interesting – I love to know what tools others are using and to hear about the contexts and purposes. I had a major takeaway in that although I was aware of GoogleForms in a vague way and had responded to polls via that tool I didn't realise how many different question types there were. Neither had I really taken in the fact that a spreadsheet is automatically created for the answers thus making subsequent data analysis very easy.
Next Webinar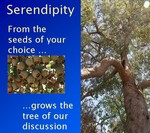 Our next session will be an Edublogs "Serendipity" session on Thursday January 19that 23:00 GMT/UTC (Afternoon/Evening USA) or Friday January 20th at 7am West Aus, mid morning Eastern States Aus depending on your timezone (check yours here) – in the usual BlackboardCollaborate room. This is one of our fortnightly unconference sessions where we invite you to bring along your "hot topics" and "burning issues" for our poll on the topic.