Introduction
This recorded Serendipity session was again one where the topic chose itself. There were only three of us in the room a topic choice time and we were all interested in the initial suggestion of "iPads/tablets in classrooms (1:1 models)". This being a Serendipity session the consensus was to go with that topic.
The Session
This was a great session, mostly audio with some text chat and a number of links shared both through text and on the whiteboard.
As always the discussion ranged across a wider field than the topic title would imply. We were talking mainly of iPads, however much of the conversation would apply also to other tablets.
We also talked briefly about sharing devices in class and also about the added difficulties of "bring your own device" scenarios and the need for activities not device specific.
One of the main themes running through the discussion was how difficult it is for many teachers adopting iPads in class to get started.
Reasons for this may include:
lack of availability of pre-existing activities "lessons" that can be used as they are or easily adapted;
lack of time to learn the device
I think that these issues apply to introducing any new device/technology but that the problem is becoming more apparent as new devices and technology proliferate. Also increasing adoption of devices/technologies in "schools" is forcing those who are not by nature "early adopters" and experimenters to use these new tools before they are ready!
We shared many links, tips, ideas and solutions to issues of using iPads and other devices in class – particularly with respect to the various non-compatibilities.
Conclusion
I personally enjoyed this session immensely, not least because I came away with a couple of new apps to try out on my own iPad!
Our Next Session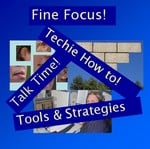 Our next Webinar is an Edublogs "Fine Focus" session. "More quick & easy online tools!" In which we will explore and share our opinions about a few online tools that are potentially quick and easy to learn for teachers and students.  Join us on Thursday March 22nd at 23:00 GMT/UTC the time for you will vary depending on your timezone (check yours here) Thursday afternoon/evening in the USA, late night Thursday in Europe, and Friday morning March 23rd in Australia – in the usual Blackboard Collaborate virtual room.