Introduction
This session was "buzzy" right from the start and throughout! If you missed all or part of this session then the recording is well worth a watch and listen.
The Session
We had five potential topics very quickly and on polling the clear winner was "Online courses – benefits/cons".
To start with we used a whiteboard to share our various understandings of "online courses". This is something we often do at the start of a Serendipity session to establish our own awareness of the possible different perceptions of the topic we plan to discuss.
We then moved on to some lively discussion. Initially we brainstormed the  positives and used these as springboards to talk about and share our own personal experiences of online courses. We then did the same for the negatives. With only a short time left we took a very brief look at working with different student "levels" in an online context.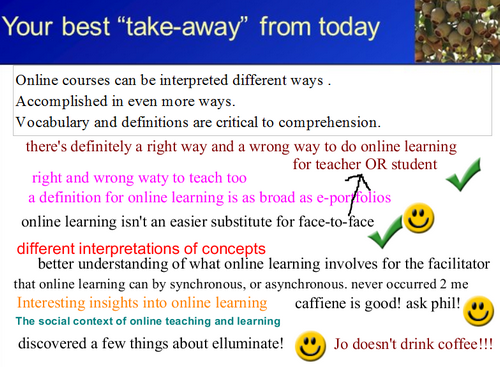 As is usual we finished with a whiteboard for our best "Take-aways" from the session, and as often happens in the best learning situations some humour crept into the "take-aways" 🙂
Conclusion
This was a great session and was definitely one of those where we just didn't have enough time to talk about everything. I left resolved to investigate several tools that were new to me – although the available time for that is extremely limited at the moment!
Our Next Session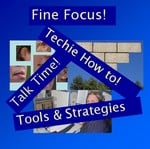 Our next Webinar is an Edublogs "Fine Focus" session. This week a chance to find out a little more about Elluminate's capabilities for you as a presenter in "Can I really do that virtually?"  Join us on Thursday June 30 th at 23:00 GMT/UTC the time for you will vary depending on your timezone (check yours here) Thursday afternoon/evening in the USA, late night Thursday in Europe, and Friday morning in Australia – in the usual Elluminate room