Introduction
In this recorded session we took a look at the recent changes in Google privacy policy. A current issue of interest to most educators who are online because the majority of us use Google applications and also we often recommend them to our students.
The Session
We started with the usual "where are we coming from" on the topic – taking a quick look at whether and which Google products we use and at our awareness of the privacy policy changes.
Next we took a closer look at some of the changes. We raised concerns and looked at some of the possible impacts.
Then came the interesting bit!
I asked participants to take a look at their own Google Dashboard and particularly their Web History. Everyone explored, made changes and shared thoughts about the amount and type of information and the sometimes worrying preditions/assumptions made by the algorithms. After the Dashboard  everyone accessed the Ad Preferences where it is possible to make some changes to the way Google targets you with advertising.
We finished with some feedback and a look at our best takeaways from the session.
Conclusion
I enjoyed this session although I felt that I talked too much! I found it interesting to get the perspectives of others on the policy changes and planning the session made me dig a little deeper than I might otherwise have done. We all find the advertising annoying but as someone said in the session this is how Google makes money and is able to provide all the apps we like so much!
I also realised that I am getting better at what used to feel like worrying silences – those that occur when people are exploring something and changing settings.
Next Webinar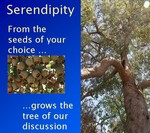 Our next session will be an Edublogs "Serendipity" session on Thursday March 15th at 23:00 GMT/UTC (Afternoon/Evening USA) or Friday March 16th at 7am West Aus, mid morning Eastern States Aus depending on your timezone (check yours here) – in the usual BlackboardCollaborate room. This is one of our fortnightly unconference sessions where we invite you to bring along your "hot topics" and "burning issues" for our poll on the topic.