Introduction
A digest of  our recent webinars over the last few weeks. I am still hoping/planning to return to posting a fuller overview or each webinar every week.
Fine Focus (13/14 Feb 2014) – "Columbus Cheetah Myth Buster Part 2"
This was a fascinating, and very interactive, recorded session (the second of two). In the session @jofrei continued to share and discuss with us some of the myths about giftedness. Jo has recently posted a series about busting the myths on "Sprite's Site".
Serendipity 20/21 Feb 2014
In this recorded Serendipity session we discussed and explored:
the upcoming #OZeLive online conference, including some of the logistics, moderator roles and communication strategies through the Australia e-series Ning
some of the BlackboardCollaborate tools available to moderators and their potential usefulness for volunteer moderators at OZeLive.
Fine Focus (27/28 Feb 2014) – "Are 'cheap' tablets worthwhile for use in class"
This week's very different style of recorded session was a look at some of the pros/cons and possible uses for cheap tablets in the classroom.  The session was facilitated by @philhart who reviewed a relatively cheap (AU$120) Android tablet and shared his thoughts throughout. This provided a "great" hook for discussion and enabled him to explore the practicalities of the device in response to points raised by participants.
During the session there were also a number of ideas for classroom use discussed (particularly in a Kindergarten environment). We also briefly touched on some of the pros and cons of Android versus iPad for the teacher during which I shared my iPad screen through AirServer and AppShare.
The consensus was that with careful research into the features provided there is lots of potential for using relatively cheap devices in a classroom environment to enable students to undertake varied activities. This was a totally fascinating session and is well worth catching the recording because of the very different style of session compared to our usual FineFocus.
Conclusion
Once again I am finally up to date with posting webinar links. Sorry again for the short session descriptions.
Our Next Webinar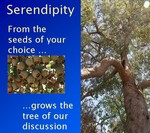 Our next webinar will be an Edublogs "Serendipity" session on Thursday March 6th at 23:00 GMT/UTC (Afternoon/Evening USA) or Friday March 7th at 7:00 am West Aus, later in the  morning Eastern States Aus depending on your timezone (check yours here) – in the usual BlackboardCollaborate room. This is one of our fortnightly unconference sessions where we invite you to bring along your "hot topics" and "burning issues". We post these on the whiteboard and then choose the topic for discussion by poll.