Preface
If you access the link to the recording it would be great if you could either tweet me (@JoHart) or leave a short comment on this post to let me know. I would really like to know if it is useful to people when I post the overviews & recording links
Introduction
This was a facilitated discussion session. It is always a bit difficult to plan these because if there isn't a structure they end up like Serendipity sessions and I do try to make a clear distinction between the two. However I always worry that I have structured it too much and am not giving people enough opportunities to talk and to participate generally. As always I would welcome feedback both from live participants and from anyone who has watched the recording. The topic arose because in the last 2-3 weeks I have several times seen Tweets about, or heard people speak of, the disadvantages of global connectedness. This made me start to reflect on the pros and cons and it seemed a good topic for discussion by a group of highly connected people.
The Session
This recorded session was very interactive with lots of chat and audio as well as whiteboard brainstorming. We began in the usual way by asking what participants wanted to take-away from the session. The next step was taking a look at how 24/7 connnected we are, including a poll on how connected we perceive ourselves to be and whether we like the idea of 24/7 global connection.
We moved on to explore those aspects that we see as negative. This was done initially using the whiteboard, followed by audio and textchat discussion.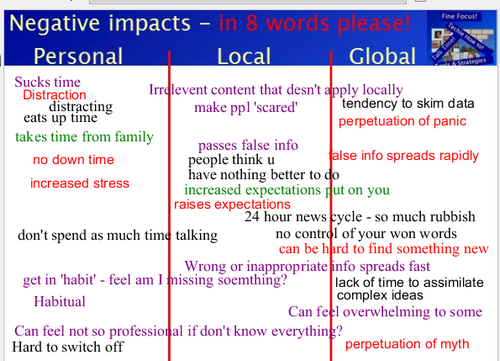 Naturally, we then considered the positive aspects in a similar whiteboard that you can see if you access the recording. When compared it seems that we felt that the positive and negative aspects were about evenly balanced.
We returned to the negatives to consider how we can manage them to reduce their impacts. Suggestions were mainly around taking "time out" in some form and checking information before disseminating it further.
The overall consensus was that being 24/7 globally connected is both a blessing and a curse!
Finally a challenge! For anyone who reads this post, was in the session, or catches the recording.
Do one thing this week to either:
Reduce the impact of a negative

Increase the impact of a positive
aspect of 24/7 global connectedness
Then tell us about it either on Twitter with the hashtag #SerendipEd or with a comment on this post.

Conclusion
This session was great fun for me and hopefully for the other participants also. I do so much enjoy the discussions as I always go away with so many new insights and hearing lots of different perspectives on the impacts of being connected was particularly exciting. My main take-away was to keep myself  aware of the negative aspects and work to manage them. I so love the opportunities for getting a global perspective and having someone to talk to in the small hours when I can't sleep that I sometimes forget that there are negatives!
Next Webinar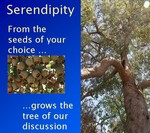 Our next session is an Edublogs "Serendipity" session on Thursday March 31st at 23:00 GMT/UTC (Afternoon/Evening USA) or Friday April 1st at 7am West Aus, mid morning Eastern States Aus depending on your timezone (check yours here) – in the usual Elluminate room. This is one of our fortnightly unconference sessions where we invite you to bring along your "hot topics" and "burning issues" for our poll on the topic of the day. If you want to propose a topic in advance then visit the Serendipity Wallwisher and add your topic.
In the Future
If you are a regular visitor to our webinars you will know that we alternate "Fine Focus" sessions on specific topics with "Serendipity" the unconference sessions where we choose a topic by poll at the start of the session. Sometimes the very fact of being asked for "hot topics" or other ideas for discussion or learning tends to make our minds blank. This has prompted me to start a Serendipity Wallwisher for topic suggestions. Please visit the wall and add your ideas for Serendipity topics so that we have more choices to consider. Some of these ideas might also form the basis for future "Fine Focus" sessions.