Introduction
We were a small group this week, however as usual the session was  recorded, so if you missed it you can catch the recording.
The Session
The session followed the usual Serendipity format with a whiteboard for topic ideas from participants and then a poll to choose the topic for discussion. The consensus was for us to merge two topics "Tech toys for motivation" and "Cool tools" and talk about and share some of our personal favourites.
A small group means that everyone has an opportunity to talk on the microphone and this is what we did! We started with a whiteboard on which we wrote some initial tools but soon moved the taking turns to talk about personal cool tools (mainly via audio but with some textchat particularly for sharing links)
When it came to my turn rather than just talk about a tool I Application Shared Wordle – one of my personal favourite "cool and motivational tools". Then we took turns to have control of desktop so everyone could add their own choice of cool tools. Thus we were able to build a collaborative "Cool Tools" wordle of some of our favourites.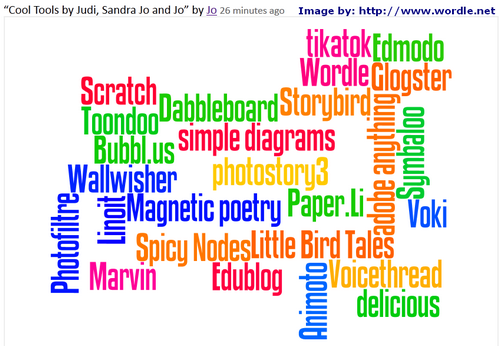 We had time for a further "round" of sharing. Once again each briefly talking about a tool of our choice, with some Application Sharing and links shared in text chat.
Conclusion
This session was a great one to be part of! As usual with sessions where we share favourite tools there were ones new to me, so I have new tools to explore.
Our Next Session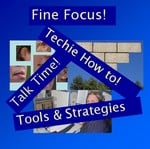 Our next Webinar is an Edublogs "Fine Focus" session, in which we take a look at the contrasting examples of Diigo and Symbaloo for online/social bookmarking in "I'm sure I saw that somewhere!"  Join us on Thursday December 1st at 23:00 GMT/UTC the time for you will vary depending on your timezone (check yours here) Thursday afternoon/evening in the USA, late night Thursday in Europe, and Friday morning December 2nd in Australia – in the usual Blackboard Collaborate virtual room