Advance Notice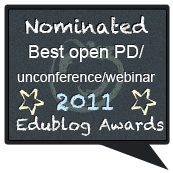 We invite you to our Christmas Party on 15th/16th December – come along with virtual "goodies" for the festive table, and if you feel inventive bring a game to share and play. After the party the webinars will be taking a two week break returning on 5th/6th January with the first Serendipity session of 2012!
PS We have been shortlisted for the Edublogs awards Thank you so much if you nominated us. If you want to vote for us (Serendipity/FineFocus Webinars in Edublogs awards click HERE to go to the site and see nominations
Introduction
This recorded, session was a look at bookmarking. I recently did a session for my colleagues on this and thought it might be worth sharing more broadly through Fine Focus.
The Session
My first task was to find out how many of us use bookmarking and which applications we use. It turned out unsurprisingly that most of us use an application to capture our favourite links. We moved on to look at the two applications beginning with Diigo. I moved all my bookmarks to Diigo a few months ago during the uncertainly about the future of Delicious. I shared my screen to look at and talk about how I am currently using Diigo. I find it works well for me and that the opportunity to highlight and sticky note links is useful because I have a lot of links with almost the same tags so seeing a couple of summarising lines really helps. I am just starting to use groups and was delighted that @TracyWatanabe was with us and willing to talk about how she uses groups extensively.
Moving on to discuss Symbaloo was an interesting contrast because Symbaloo is very visual. Again I shared my screen to show how it enables links to be organised, colour coded, categorised symbolically. It doesn't work in quite the same way as Diigo in that you don't simply store a link with a click on a toolbar, you have to create a tile and put it in a webmix (category) which is a bit more time consuming. However you can create great visual collections that you can share with others.
We finished with a brief look at favourite bookmarking apps and how we use them.
Conclusion
I enjoyed doing this session although I felt I that perhaps I should have modified it more – when I talked about bookmarks with my colleagues I was largely talking with an audience who don't use them so I included the signup. I find the contrast between the two applications is interesting and feel personally that Diigo is the one I will continue to use for most bookmarking but that I will increasingly use Symbaloo for sharing – especially with students because it is so visual!
Next Webinar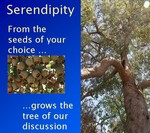 Our next session will be an Edublogs "Serendipity" session on Thursday December 8that 23:00 GMT/UTC (Afternoon/Evening USA) or Friday December 9th at 7am West Aus, mid morning Eastern States Aus depending on your timezone (check yours here) – in the usual BlackboardCollaborate room. This is one of our fortnightly unconference sessions where we invite you to bring along your "hot topics" and "burning issues" for our poll on the topic.