Introduction
This session was fun – we had old friends and new (including @tomwhitby a great Twitter contributor and creator of  EduPLN ning – part of the inspiration for this session through Twitter convs with Phil and myself)  who made it a great session through their input. The topic was timezones (TZ) – a mix of background about them and strategies for us all to be in the right virtual place at the right time.
The Session
As usual we recorded the session (please let me know if you access it) for those who were unable to attend.
For this webinar I added to the  "Where in the world are you?" map by including some timezones and also the equator. Should we keep this extra timezone info or does it make the map too busy? Let me know in comments or via Twitter (@JoHart).
We started with a look by Phil (@philhart) at some of the terminology of timezones. Phil teased us with a couple of questions about the International Date Line and a quiz about time for homework!
Then we moved on to sharing some of our own issues in working with timezones.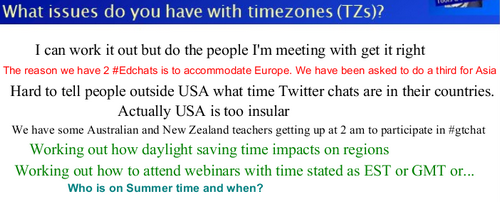 We took a quick run through some of the strategies that I find effective in enabling me to be in the right virtual place at the right time. Some of these are also useful in helping to develop a "feel" for what time it is elsewhere. We finished with sharing some idas strategies used by others in working with timezones.
Conclusion
Timezones and the issues around working with them are one the topics that sometimes generate a "rant" from me. More specifically I find the parochial attitude often displayed by people assuming that everyone else is familiar with their particular timezone to be irritating. In my own very personal opinion we have a standard time that does not vary seasonally (ie GMT or UTC) so we should always reference back to that. It is then easy for everyone as they only need to know the relationship between their own TZ and GMT/UTC and not try to work out relationships betweeen their own TZ and several others.
Next Webinar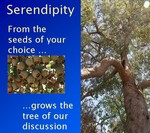 Our next session is an Edublogs "Serendipity" session on Thursday May 26th at 23:00 GMT/UTC (Afternoon/Evening USA) or Friday May 27th at 7am West Aus, mid morning Eastern States Aus depending on your timezone (check yours here) – in the usual Elluminate room. This is one of our fortnightly unconference sessions where we invite you to bring along your "hot topics" and "burning issues" for our poll on the topic of the day. If you want to propose a topic in advance then visit the Serendipity Wallwisher and add your topic.