Introduction
Sometime ago someone asked in one of our sessions "who is paying" ie for the webinar. Since then I have been mulling over the need for an "About" page explaining the background and what we do for the benefit of those of you who were not around in the early stages of these regular webinars. I have finally got around to doing this for several reasons. There are now so many online events and webinars that it seems necessary to have some proper description of what we do. We have been global in our scope and in our participants from the very start but our webinars also fall into the much newer "Australia Series" by being at an Australia friendly time, and so we needed a description for the Australia Series Blog.
Origin of the webinars
The BlackboardCollaborate Room that we use is provided by BlackboardCollaborate. Edublogs and BbC are Community Partners thus the room available through Edublogs for free events such as our webinars.
The initiative originated with Sue Waters of Edublogger fame and to a lesser extent with myself. The webinars were born out of some conversations Sue and I had about educators sharing their knowledge and the sort of informal professional development that happens when people get together and network. Sue has a great passion for sharing knowledge globally and I too find this intensely exciting, although at that early stage I had no idea how to do anything about it.
Sue and I have known each other "really" for some years – we both worked (as I still do) in the Western Australian Public  Vocational Education and Training sector – usually known as TAFE. We met when we were both involved in managing and facilitating innovative elearning professional development projects for our colleges and my projects all utilised BbC.  I work at CY O'Connor Institute a regional college in the Wheatbelt of Western Australia with a catchment area of around 155,000 square km, this means much of our delivery is necessarily through distance learning so BbC is a great tool for us.
When the webinars began in late 2008 Sue and I co-facilitated them – at the time I had already been using Elluminate in my lecturing role for several years so had quite a lot of experience whereas Sue had less Elluminate experience but vastly more knowledge about everything else! The webinars started very informally when there were very few of these professional development opportunities available. However they have developed and changed since, morphing into the current alternating format.
See the slideshare below for a summary of how the webinars work and some of the topics visited since we began. Some topics are of perennial interest and have been re-visited.
At the moment we have Serendipity unconference webinars every other week with Fine Focus webinars in the alternate weeks. Since mid 2009 I have been regularly posting an overview of each week's webinar along with the recording link, I also include the following week's topic (if it's Fine Focus), the date/time (for several timezones) and the room link.
I decided it was time for an update (July 2012) in the information. Nothing has changed in where the webinars came from of course! However the video below
was made as a result of two of our sessions – one a Serendipity where we explored Pecha Kucha and the second a Fine Focus where some of us shared our own attempts at Pecha Kucha and some of the pitfalls we encountered on the way!
Serendipity – unconference webinars
This is how we started – with everyone writing their ideas for the topic of the day on the whiteboard and then using  polling to choose which topic to consider. These sessions are truly Serendipitous as we can go anywhere from our starting point and we often do! We have had some great discussions and sharing of of ideas in these sessions and also some tremendous learning especially when we fortuitously have an expert on the chosen topic amongst us!
Fine Focus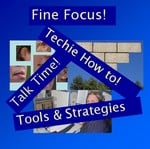 The Fine Focus webinars arose because it seemed that sometimes people wanted to come along and learn about something specific, rather than have an unconference every week. These webinars have a pre-determined topic but the style, format and actual content is determined by the presenter. We have had many discussions, tech "how tos" and sessions on specific tools and strategies used with students. Sometimes the presenter is myself or Phil who co-facilitates with me each week. However where possible we love to have guest presenters – not always easy for me as I am reluctant to impose on people by putting them on the spot and asking them to present.
Conclusion
The alternating format combined with posted overviews seems to work well apart from the continuing pressure to organise a Fine Focus session every second week! If you have a passion to share, a burning issue to discuss, a tool or application that you love using, or an e-strategy that you use with your students,and you would like share this via a webinar then please Tweet me @JoHart or put a comment on my latest post. If you haven't presented using BbC before these webinars are a great way to start – we are friendly and can help you with BbC tools and strategies so that you can achieve your objectives
Join us
Join us each week on Thursdays at 23:00 GMT/UTC. This is Thursday afternoon/evening in the USA and South America, Thursday late night in Europe and Friday morning in Australia depending on your timezone – in the usual BbC room We try to make these webinars as interactive as possible so if whether you are new to BbC or an "old hand" there will be something for you.