REMINDER
It's that time of year again! Over the next few weeks timezone chaos will reign. Half the world goes onto daylight saving and half comes off daylight saving. Except for a few regions such as here in Western Australia where we don't have daylight saving. Just to make it even more complicated different places change on different dates. This is one of the main reasons we use GMT/UTC for our webinar times – because (like our West Australian time, but with much more "credibility") it stays the same all year round.
If you have just lost or gained an hour then double check the times for anything trans-global in which you are involved. In the Northern Hemisphere you are heading back into winter so will "lose" an hour when your clocks are set back, thus our webinars will be an hour earlier "your time". In the Southern Hemisphere you are going forward into summer so you "gain" an hour resulting in webinars an hour later "your time"
(For the link for live webinars and info about the times and topics scroll to the bottom of this post)
Serendipity
Recorded as always, this session took a look at two topics: alternative assessment ideas and email newsletters.
Alternative assessment ideas rapidly gave rise to a whiteboard full of strategies! We were a very mixed group ranging from teachers of Kindy to Adult and Vocational education and having teaching, training or both qualifications. This made for some great discussion and it was interesting that similar approaches seem relevant whatever the age or education sector.
Email newsletters were discussed from the perspective of how best to create them (ie the medium: embedded html, pdf, simple word processed doc)  and also the pros and cons in comparison with other ways of distribution such s using a blog or similar website.
De Bono action shoes for a 2E student on Gagne's DMGT road – Part 1
This recorded session was the first part of a double FineFocus session (next part coming up on Thursday/Friday depending on where in the world you are) presented by @jofrei – Jo Freitag, creator of Sprite's Site and co-ordinator of the Gifted Resources website
Jo began by checking out our understanding of:
2E students;
Edward de Bono's Six Action Shoes which are the follow up to the Six Thinking Hats
and Gagne's Differentiated Model of Giftedness and Talent.
We then heard about the Six Action Shoes in the context of the Feetspeak Quest Map, moving on to look at each of the six shoes in more detail and to consider their relationship to the Gagne DMGT model. As always Jo kept us thinking by seeking our input on the "positivenesses", "negativenesses" and "interestingnesses of each of the shoes.
We overran slightly to bring this part of the session to a neat conclusion with the last pair of shoes! In the next session Jo will extend our activities into a consideration of combinations and variations in the shoes.
This was a fantastic session – Jo always  increases our knowledge, expands our horizons and makes us think through inviting whiteboard input! If you plan to join this week's session try and catch last weeks recording beforehand but if you don't have time for that join us anyway as Jo will recap the previous session at the start.
Our Next Session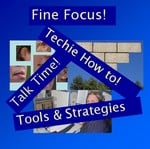 Our next Webinar is the second part of of @jofrei (Jo Freitag's)  double FineFocus session (next part this week).    Join us on Thursday October 25th at 23:00 GMT/UTC the time for you will vary depending on your timezone (check yours here) Thursday afternoon/evening in the USA, late night Thursday in Europe, and Friday morning October 26th in Australia – in the usual Blackboard Collaborate virtual room.