Introduction
Our first Serendipity session of the year was a great session! As always the session was recorded and is well worth a watch/listen for the huge amount of sharing of ideas and links. I'm sorry for the delay in posting – a combination of migraines, a visitor staying and too many things still to do before I go back to work has left me without enough time!
The Session
We started as usual by putting our topic ideas on the whiteboard and then polling to choose the topic for consideration. The winner was a double topic "IEP for gifted students" and "Behaviour strategies for gifted".
Once the topic was chosen we started with a whiteboard for the headings and to collect some of our ideas and thoughts on this including some links. As usual ideas were also shared via text chat and audio. This was a lively session with much of the sharing via audio leaving me with a dilemma about an image/interactive for this week's post. The whiteboard has only a very small part of those things that were shared as does text chat. So what I have finally done is to experiment with a survey!



While the survey doesn't give us an image in the post it does give us something different to do and so meets my personal criteria for something other than just plain text in every post 🙂
Conclusion
I enjoyed this session – this is one of the topics that we have visited before from different angles and I am always fascinated by the different directions taken when topics are re-visited. Because we never have exactly the same group of people each week Serendipity sessions are truly serendipitous in that our direction is informed by the particular experiences of out participants each week. Love it!
Our Next Session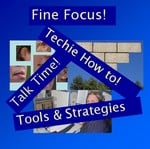 Our next Webinar is our first Edublogs "Fine Focus" session for 2012, where we invite you to share your favourite online survey tools in "What survey was that!"  join us on Thursday January 12th at 23:00 GMT/UTC the time for you will vary depending on your timezone (check yours here) Thursday afternoon/evening in the USA, late night Thursday in Europe, and Friday morning January 13th in Australia – in the usual Blackboard Collaborate virtual room.