Introduction
This session gave us all some exciting Serendipitous learning. We actually over-ran by a very long time because as we neared the end of the scheduled session we decided to try a Google+ hangout. So the recording is rather longer than usual!
The Session
Naturally with the very recent release of Google+ beta this was one of the proposed topics for the session and came out the clear winner in the poll for our topic.
We started with a quick poll on who was currently experimenting with Google+ We found that only two of us in the session and a third – temporarily away but tweeting until he rejoined the session were currently exploring G+
We started with a whiteboard for thought and ideas but soon moved to Application sharing using my Google+ page as the stimulus to discuss what we knew of the functions and features. As those of us already using G+ talked about our experiences to date and tried to answer questions from those as yet to join we also sent invitations to the others so that they could join.
The discussion moved on through sharing information about how circles work and then on into hangouts. We were all keen to try a hangout and after a bit of time spent and trial and error – mainly due to the fact that several of us were still in the joining up process, those of us still in the session were able to join the hangout successfully. I kept my Elluminate microphone live until all of us were in the hangout, where the discussion continued as we played with some of the features.
I hope that some of the others in the group will add their comments to this post about their impressions of how the session as a whole worked and also their thoughts about Google+
Conclusion
This was a very exciting session to be part of. I always find sessions where we are not only in an Elluminate room but also use a second application where we can communicate as a group (as we have done in the past with GoogleDocs) to be particularly fascinating. I think with a little careful planning around managing the audio we could successfully integrate a Google hangout and an Elluminate session which could have advantages for viewing videos and perhaps for other purposes.
Our Next Session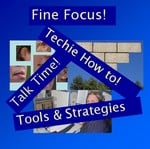 Our next Webinar is an Edublogs "Fine Focus" session. This week (as a spinoff  from a number of recent questions raised about playing videos in virtual sessions) Phil will be showing us how to adjust videos so that they are less bandwidth hungry and looking at some of the resulting "trade-offs"  in " Is this video worth watchingvirtually?"   Join us on Thursday July 28th at 23:00 GMT/UTC the time for you will vary depending on your timezone (check yours here) Thursday afternoon/evening in the USA, late night Thursday in Europe, and Friday morning in Australia – in the usual Elluminate room