Introduction
This recorded Serendipity session was really just a chat rather than a more formal session. There were only three of us so we just talked about the ideas we had on the whiteboard and digressed into other areas.
The session
The ideas on the whiteboard for this week were "Crowdfunding" and "Teaching basic numeracy in primary schools". However we diverted into several other areas.
We only had a brief chat about each of the  topics this week. Just sharing some of our own thoughts and ideas about them rather than an in depth discussion about any one topic. We started with a heads-up from @jofrei on the recent conference of the Victorian Association for Gifted and Talented Children. Jo had not got links to hand at the time but later sent these – one specifically relating to the VAGTC EmpowerEd conference program. The second is a link to a white paper – New opportunities for the gifted and talented – directions paper
Our next flying visit was to the concept of crowdfunding – what it is and some potential issues around copyright and Creative Commons licensing that might arise with crowdfunding online projects.
Then we talked about the accessibility, or lack of accessibility, to outcomes from gifted education research. This being largely because such research is published mainly in journals that are expensive to access. The discussion expanded into comment on the pressure to publish now on academics.  We also diverged into issues around obtaining recognition (eg for blogs) and funding for projects in areas that are perceived as of interest only to minorities.
We finished with a short discussion about maths with particular reference to teaching in primary school and student confidence issues.
Conclusion
A slightly different Serendipity this week but still as always engaging and interesting!
Our Next Session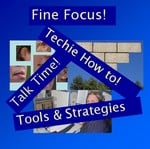 Our next Webinar is a FineFocus session. Join us on Thursday May 2nd at 23:00 GMT/UTC the time for you will vary depending on your timezone (check yours here) Thursday afternoon/evening in the USA, late night Thursday in Europe, and Friday morning May 3rd in Australia – in the usual Blackboard Collaborate virtual room.