Introduction
This was a very lively session! Great fun with lots of whiteboard contributions and text chat – we had several people without microphones so there was a lot of discussion in text. As usual the session was recorded – please let me know if you access the recording.
The Session
We had an interesting selection of topics and combined two closely related ones "Social media in the classroom; strengths and weaknesses" and "how to talk your admin into using social media in the classroom"  for the poll. This combined topic was the outright winner!
We started with a quick whiteboard brainstorm to share our own understanding of the term social media in a classroom context. This confirmed that we all had similar perceptions.
Then, very much in the spirit of Serendipity sessions we diverted briefly to explore a question raised in text chat – namely when we use social media particularly text based "do we do the quiet ones a disservice by always allowing them an out from speaking up?" The consensus was that we need both with a strong awareness that the opportunitiy to text can build confidence. As a shy child myself I was incapable of "speaking out" in class or anywhere else and trying to force me just made it worse, so I identify very strongly with those who "lurk" and prefer to text. I very much regret that such opportunities for interaction were not available in my childhood as I think they might have helped me to manage my shyness much sooner!
The next part of the discussion moved back to the main topic and we took a look at the strengths and weaknesses of using socisl media in the classroom.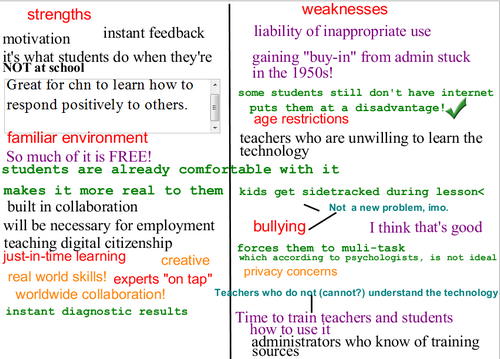 This whiteboard filled very fast with both strengths and weaknesses, giving us much food for thought and leading nicely into a very quick look at which of us are using social media with students at the moment and what tools we are using.
We then moved on to consider one of the eternal questions for educators – how we get others whether they be educators, admin or policy makers on board with tools and strategies that can be fully justified in pedagogic terms but are threatening in some way because they are new and challenge long-held and conservative perceptions of what teaching is about. Again we filled a whiteboard rapidly with the overall opinion being that demonstrating the use in some waythat includes the doubters is probably the most effective strategy
Conclusion
This was a terrific session – so many thoughts, opinions and ideas shared. Though as always I felt I talked too much! I think this happens more when we have people without audio because so much of the discussion happens in text and on the whiteboard so I tend to try and provide a commentary to link whiteboard and text chat.
Our Next Session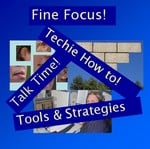 Our next Webinar is an Edublogs "Fine Focus" session. This week in "Trouble with Timezones?" we will be discussing the issue of timezones,  sharing some of our own strategies for ensuring we don't get event times wrong and that we can catch up with our global PLNs, and hearing from YOU about your issues and strategies around timezones. Join us on Thursday May 19th at 23:00 GMT/UTC the time for you will vary depending on your timezone (check yours here) Thursday afternoon/evening in the USA, late night Thursday in Europe, and Friday morning in Australia – in the usual Elluminate room