Introduction
This session happened at rather short notice. Our guest presenter had to pull out at short notice. So as I recently had a spate of spam comments on my blog and had used my visitor tracking to confirm to myself that it was indeed spam – this led me to think about how much we know about visitors to our blogs. I thought this might be a topic of interest to others.
The Session
We were a very small group this week and as usual we recorded the session (please let me know if you access it) for those who were unable to attend. To start with we took a look at whether we all had blogs – we did, and whether we monitored visitors – I was the only one who did so. We touched a little on monitoring comments and conversations in comparison with the automatic monitoring that was the focus of the session.
We talked about the uses of visitor tracking/monitoring. I myself mainly use three different systems allthough I also access the standard statisitics automaticially available on all Edublogs blogs. My three systems give me different levels of information from the broad totals of visitors to the blog broken down by country, down to much more specific when, where from and which post they arrived on as well as whether they arrived as the result of a search & what that search was. I find the last very useful in helping me to confirm if comments are spam. Anyone who arrives on my blog as a result of a search for "leave a reply" is almost certain to be a spammer!
I used AppShare to illustrate how I use these tracking mechanisms on my own blog and how I use them to inform (to some extent) how and when I post. The last part of the session was, as usual, a look at our best "takeways" from the session
Conclusion
This session went very well even though we were so few and the topic was planned at short notice. I certainly find that using the different visitor tracking systems is very helpful for me in lots of different ways & hope that these thoughts are useful for others
Next Webinar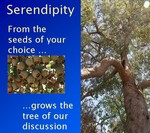 Our next session is an Edublogs "Serendipity" session on Thursday May 12th at 23:00 GMT/UTC (Afternoon/Evening USA) or Friday May 13th at 7am West Aus, mid morning Eastern States Aus depending on your timezone (check yours here) – in the usual Elluminate room. This is one of our fortnightly unconference sessions where we invite you to bring along your "hot topics" and "burning issues" for our poll on the topic of the day. If you want to propose a topic in advance then visit the Serendipity Wallwisher and add your topic.