REMINDER
It's that time of year again! Over the next few weeks timezone chaos will reign. Half the world goes onto daylight saving and half comes off daylight saving. Except for a few regions such as here in Western Australia where we don't have daylight saving. Just to make it even more complicated different places change on different dates. This is one of the main reasons we use GMT/UTC for our webinar times – because (like our West Australian time, but with much more "credibility") it stays the same all year round.
If you have just lost or gained an hour then double check the times for anything trans-global in which you are involved. In the Northern Hemisphere you are heading back into winter so will "lose" an hour when your clocks are set back, thus our webinars will be an hour earlier "your time". In the Southern Hemisphere you are going forward into summer so you "gain" an hour resulting in webinars an hour later "your time"
(For the link for live webinars and info about the times and topics scroll to the bottom of this post)
Introduction
It's a long time since we had a session related to Twitter and as there seem to have been several waves of spam DMs around recently it seemed a good idea to take a look as some of the strategies we can use to help guard against becoming victims of the people in "black hats". In other words to stop cuckoos laying their ph*shing eggs in our Twitter nests!
The session
In this recorded session I started with a few questions about how the group uses Twitter. Sometimes our own usage patterns can put our accounts at greater risk of attack – some of these patterns were raised in these initial questions. We then moved on to use the whiteboard to share some of our individual thoughts on the risks posed by attacks on our Twitter accounts.
Next we thought – again using the whiteboard about potentially suspicious Twitter activity that might set our own "alarm bells" ringing.
This included sharing my personal "alarm bells" that have emerged over 4 years and approaching 20,000 tweets.
Next came a look at what to do about these activities – the fake DMs and other potential issues. Catch the recording for the full strategies! One of my main concerns in this is that if you get a fake DM please don't blame the messenger (ie DON'T block & report) – it could be you next time! We are all vulnerable to attack – if we take some precautions we become less so, but it only takes a moment's inattention or just something that we don't know about and those fake DMs could be going out from our accounts! For me personally I think my most effective strategy has been close management of my followers and being careful who I follow!
We finished up with a look at our best take-aways!
Conclusion
A good session – Twitter is a topic that I always enjoy discussing and I do have strong feelings about the community supporting one-another in combating the "black hats". Over the four years I have been tweeting I have worked out my own strategies to deal with some of the issues that arise and I think it is important to share these widely.
If you have something to share either about Twitter safety strategies or anything you would like to present a webinar on please let us know (add a comment to this post, or Tweet us – @JoHart or @philhart). Then join us to facilitate a session about your e-edu passion! If you are not familiar with BlackboardCollaborate we can help you plan how best to do your session so it works for you.
Our Next Session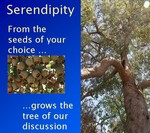 Our next Webinar is an Edublogs "Serendipity" session where we invite you to suggest your "hot" topics for discussion – we then select the topic by poll.  Join us on Thursday October 11th at 23:00 GMT/UTC the time for you will vary depending on your timezone (check yours here) Thursday afternoon/evening in the USA, late night Thursday in Europe, and Friday morning October 12th in Australia – in the usual Blackboard Collaborate virtual room.