Introduction
This was a great session! Unfortunately not all captured in the recording as I was late starting it. I have tried to  fill in the gap by writing a little more than usual at the start.
The Session
Our chosen topic was Mobile Learning Devices (MLDs) in the classroom. Use of the acronym has incidentally given rise to the next Fine Focus topic – see later in the post for details.
We started with a brainstorm on the whiteboard to share our thoughts on what we saw as MLDs. there was quick agreement on cell/mobile phones, tablets, PDAs, netbooks, but a bit of discussion around laptops, digital cameras/videos and e-readers. The following were suggested as criteria: light, portable, internet capable and also having both input and output capability.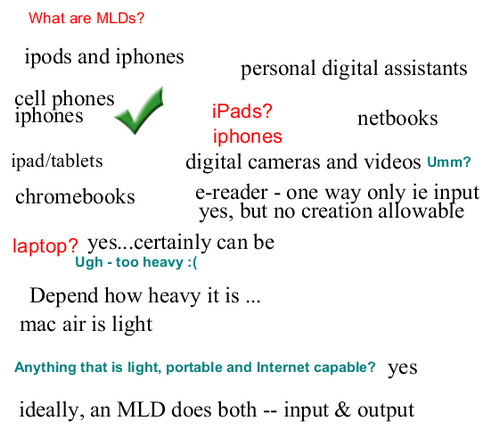 We were very lucky in that one of our number Tracy (@mmebrady) has recently started using MLDs in class. Tracey gave us a great run down on how she is using  PollEverywhere with her students so they can use their own cell/mobile phones in class and can answer questions online. A great motivator for students who are normally not allowed to get phones out in class! Tracy also told us about how she is exploring QRCodes and placed one for her blog on the whiteboard. I have since downloaded a free QRCode reader for my phone & visited Tracy's blog from my phone via the QRCode on the whiteboard – very exciting! Access the recording and try it for yourself!
The discussion about QRCodes was great piece of  Serendipity – I had come across them but hadn't really thought about ways I could use them, but this really helped to get me thinking about some possiblities. I can see lots of potential for enabling students to access links through mobile devices directly from written resources by including a QRCode.
We finished with a diversion from the main topic into a short discussion about designing a "learning experience" and what would be important to include in such a design.
Conclusion
This was a fascinating session and has certainly encouraged me to look at more possibilities for mobile devices even though in my region we have many areas with poor coverage.
Our Next Session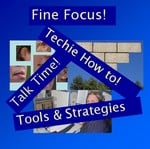 Our next Webinar is an Edublogs "Fine Focus" session. This week in "Come hither, all ye victims of (e-learning) jargon" We will: take a look at some of the jargon we use unconsciously; and ask does this put educators off exploring e-learning and if so what can we do about it. Phil will invite you to collaborate on a "dictionary" of some of the e-jargon we all use regularly. Join us on Thursday June 2 nd at 23:00 GMT/UTC the time for you will vary depending on your timezone (check yours here) Thursday afternoon/evening in the USA, late night Thursday in Europe, and Friday morning in Australia – in the usual Elluminate room