Introduction
In this session, recorded as always, we heard from Michael Graffin about the variety of projects that have formed part of the "Global Classroom Project" (#GlobalClassroom) this year.
The Session
Michael took us on an incredible journey. He started with some background, firstly explaining how the Global Classroom came about and its reach both geographically and in numbers. Then moving on to the aims and ethos of the community.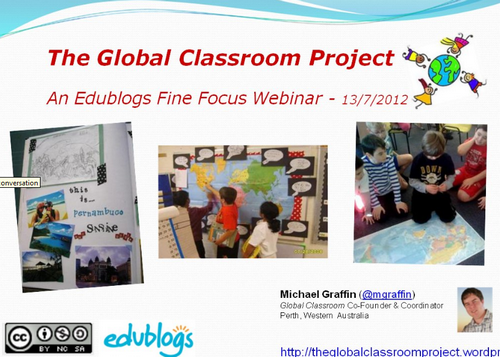 For me the most exciting part was the project stories – Michael shared the project stories and some of the highlights of the year. We were lucky in that Lin-Lin Tan from Taiwan, one of the teachers involved in several projects was able to join the session. She told us a little about how the Global Classroom projects have affected her and her students.
Michael moved on to consider some of the impacts of Global Classroom on teachers and some lessons learnt. Finally he turned to the future with thoughts for next year's #GlobalClassroom.
Conclusion
This was a fantastic session! Michael gave us a brilliant overview of Global Classroom and the projects. Chat was very lively throughout with many ideas shared and also links to many of the projects (thanks to Anne Mirtschin for her help in dropping links into chat). If you are looking to be both inspired and awe inspired then this is a MUST catch recording!
Next Webinar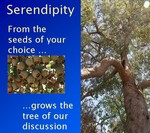 Our next session will be an Edublogs "Serendipity" session on Thursday July 19th at 23:00 GMT/UTC (Afternoon/Evening USA) or Friday July 21st at 7am West Aus, mid morning Eastern States Aus depending on your timezone (check yours here) – in the usual BlackboardCollaborate room. This is one of our fortnightly unconference sessions where we invite you to bring along your "hot topics" and "burning issues" for our poll on the topic