Introduction
This session was fun with lots of tools shared and discussed. Also I started the recording at the proper time this week, there was a lot of audio discussion as well as text chat and the recording is well worth catching if you missed the session.
The Session
Our chosen topic was "What tech tools do you use the most and why?" We put the title on an empty whiteboard and then each added the tools we use most.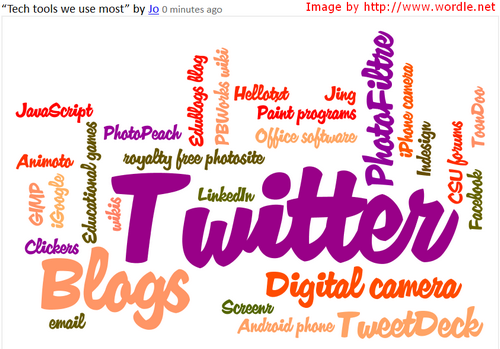 This gave us a great selection to talk about! We only managed to discuss a small number in the time available, and even then we scarcely touched on the "why" of using particular tools. Because we all found this session both useful and interesting and felt that there was so much more we could have discussed we are going to try something a little bit different in the upcoming Fine Focus session, by continuing the theme of tools we use most and inviting YOU to tell the group about your most used tools.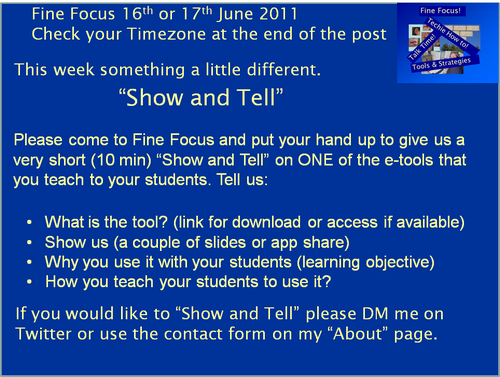 We already have one volunteer who DM'd me after the session. Please join us and add your voice to the session. Let me know if you would like to "Show and Tell" and what tool you plan to talk about (so we can avoid doubling up).  My Twitter ID is @JoHart or you can use the Contact Form on my "About Me" page
Conclusion
This was a great session and was definitely one of those where we just didn't have enough time to talk about everything. I left resolved to investigate several tools that were new to me – although the available time for that is extremely limited at the moment!
Our Next Session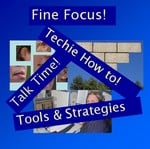 Our next Webinar is an Edublogs "Fine Focus" session. This week in "Show and Tell" We invite volunteers to do a 10 minute "Show and Tell" about one of the tools they teach their students about. Check out the Invitation above – let me know if you would like to "Show and Tell" If you haven't used Elluminate before we can help with anything you would like to do.  Join us on Thursday June 16 th at 23:00 GMT/UTC the time for you will vary depending on your timezone (check yours here) Thursday afternoon/evening in the USA, late night Thursday in Europe, and Friday morning in Australia – in the usual Elluminate room