Introduction
This was a great session – Phil (@philhart) got us all thinking as we discussed our ideas and opinions about the jargon we all use in an e-learning context and how this jargon may impact on those new to the field.
The Session
The session was recorded as usual (please let me know if you access it) for those who were unable to attend.
Phil started us off by getting us to share on the whiteboard our understanding of "jargon"
Then we moved on to sharing some of our own experiences with "jargon" and looked at how we teach this for our oun subject areas.
Phil then asked if anyone had used a "Jargon Buster" and if so had they found it useful. One of the common problems with these is that they may often use "jargon" in defining "jargon" – very frustrating for the user! Phil has started a wiki experiment developing a dictionary of e-learning "jargon" where he is trying to use definitions written in plain language. We all had a go at trying to define a few given e-words in a simple easily understood way and also took a look at some of the "jargon" we ourselves have trouble with.
Phil moved on to look at the implications of "jargon" for those new to e-learning (both students and teachers) and thence to what we might do to try and help those new to the field. The wiki was started as an experiment but with collaboration has the potential to grow and could perhaps make a contribution to "unjargoning" the "jargon". Phil invited all of us to join and collaborate whith him in building a "Dictionary of e-learning Jargon"  If you too would like to join this collaboration and contribute some definitions to the dictionary then ask Phil for an invitation. You can ask him by sending him your email either by DM on Twitter (@philhart) or by filling in the contact form on his blog
Conclusion
This session was fascinating, it certainly made me think again about jargon and how I use it and teach it. Like several of the definitions given in our look at some meanings I often use analogies that come from a (hopefully) more familiar context to my audience. I know I am sometimes guilty of using jargon without being sure that my audience understands this. I find this often happens when I am short of time or "characters" eg on Twitter where I often assume incorrectly that Tweeters will automatically be very "techie" people.
Next Webinar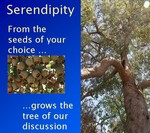 Our next session is an Edublogs "Serendipity" session on Thursday June 9th at 23:00 GMT/UTC (Afternoon/Evening USA) or Friday June 10th at 7am West Aus, mid morning Eastern States Aus depending on your timezone (check yours here) – in the usual Elluminate room. This is one of our fortnightly unconference sessions where we invite you to bring along your "hot topics" and "burning issues" for our poll on the topic of the day. If you want to propose a topic in advance then visit the Serendipity Wallwisher and add your topic.