Edublogs Awards!
Well voting time for Edublogs Awards is nearly up! I have just felt so pleased and honoured that the Edublogs Live webinars were shortlisted in the "Best Educational Webinar Series" category. To check out the nominations and then perhaps vote for our Edublogs Live webinars then follow the link. Thank you so much to those who nominated and to those who may already have voted! We aim to be a friendly place for educators from around the globe to learn together; find out more about using the interactive potential of Elluminate; and have an opportunity to present a Fine Focus session.
Introduction
We had three topics to choose from, two of these were from the wallwisher. The final consensus was to look at learning activities & Web2.0 tools, but also to have a "play" with some of the moderator tools in Elluminate. This was a great recorded Serendipity unconference webinar. The main topic "designing learning activities to leverage available Web2.0 tools" came from our Wallwisher and so didn't have a "sponser" in the session. These are always interesting as the person posting the topic is not present to ask for an expansion of their thoughts. Instead we started with our interpretation and worked from there. In the session we also had a brief look at moderating Elluminate sessions – giving everyone moderator privileges and a chance to "play"
The Session
Once we had decided on the topic we started with a quick whiteboarding of what we understood it to mean.
There was also audio and text chat discussion around this with a feeling that those of us present would start with a learning activity and then choose a tool to suit the activity rather than choose a tool and then make an activity that used it. We moved on to consider some activities and tools, again using the whiteboard. This time we split the board into two columns – we put activities on one side, tools on the other and linked them with lines. Of course many tools are usable for more than one kind of activity and vice versa so we ended up with a tangled web of lines – a great representation of the "real" world of Web2.0!
We then moved on the a look at some of the Elluminate moderator tools giving people an opportunity to load presentations to the whiteboard and also taking a look at the potential of the multimedia library, and the possible pitfalls. Using videos has improved immensly since I first used Elluminate some years ago. The main issues are around file size and format – as is the case with any use of video in any online context. Whatever you use you need to remember that the participants need sufficient bandwidth and an appropriate player or the video won't work for them!
Conclusion
This session was fun! Every time we have Serendipity sessions that touch on Web2.0 toolsI meet new tools that I need to explore. Often I just dip in and may not actually take up the tool, but it gives me more potential "tools" in my "teacher toolbox" that I am aware of and that may one day be just the "right" tool for a particular student, group of students or topic. I also enjoy "playing" with Elluminate & love giving people moderator status so that they can investigate the extra tools available to moderators.
Our Next Session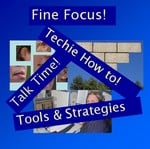 Our next Webinar is an Edublogs "Fine Focus" session. This week we have the usual End Of Year/Christmas Party. So bring along virtual goodies to share and please get your thinking caps on and devise an Elluminate Party Game for us to play.  If you have an idea but aren't sure how to make it work in Elluminate then put a comment on this post or catch me on Twitter (@JoHart). Join us on Thursday Dec 16th at 23:00 GMT/UTC (6pm USA EST, Midnight CET) or Friday Dec 17th at 7am West Aus, 10am NSW, depending on your timezone – in the usual Elluminate room
In the Future
If you are a regular visitor to our webinars you will know that we alternate "Fine Focus" sessions on specific topics with "Serendipity" the unconference sessions where we choose a topic by poll at the start of the session. Sometimes the very fact of being asked for "hot topics" or other ideas for discussion or learning tends to make our minds blank. This has prompted me to start a Serendipity Wallwisher for topic suggestions. Please visit the wall and add your ideas for Serendipity topics so that we have more choices to consider. Some of these ideas might also form the basis for future "Fine Focus" sessions.