Introduction
Firstly an apology, well actually two apologies! the first one is because I was a bit slow at starting the recording so the actual choosing of a topic wasn't recorded. Secondly I have been extremely slow at doing this overview post! There is even a third – I have not updated the Edublogs and LearnCentral calendars yet, I hope to do so in the next few days. My conclusion from the above is that I really shouldn't have holidays as I seem to be incapable of getting myself back into gear. It may be something to do with the fact that I don't re-start at work for another two weeks & I am still behind on all the other things I planned to do during the holiday!
The topic chosen was what are we "hoping to use for 2011 in the way of elearning". Despite my messy start we do have a  recording and the session was terrific with much sharing through audio and text so the recording is well worth catching.
The Session
Once we had decided on the topic we started with a whiteboard, which in fact we continued to use throughout, for our initial thoughts on what we hope to use this year.
This whiteboard was added to throughout ending up as above. So the whiteboard formed the focus around which we used text and audio to share and discuss our experiences and hoped for experiences with some of these tools.  This session provided great opportunities to share possible tools for specific purposes and I think we could have carried on for much longer if time had allowed.
Conclusion
This was a great session, as I have said before every time we have Serendipity sessions that touch on Web2.0 tools I meet new tools that I need to explore. I hope/feel that this might be the case for other participants also. Just that feeling of adding another potential "tool" to my "teacher toolbox" is always exciting.
Our Next Session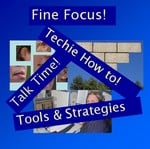 Our next Webinar is an Edublogs "Fine Focus" session. This week in "Pay for software – you have to be joking!" Phil Hart will give us an overview of some of the free and open source software that we could try instead of the sometimes costly applications we often use.  Join us on Thursday Jan 13th at 23:00 GMT/UTC (6pm USA EST, Midnight CET) or Friday Jan 14th at 7am West Aus, 10am NSW, depending on your timezone – in the usual Elluminate room
In the Future
If you are a regular visitor to our webinars you will know that we alternate "Fine Focus" sessions on specific topics with "Serendipity" the unconference sessions where we choose a topic by poll at the start of the session. Sometimes the very fact of being asked for "hot topics" or other ideas for discussion or learning tends to make our minds blank. This has prompted me to start a Serendipity Wallwisher for topic suggestions. Please visit the wall and add your ideas for Serendipity topics so that we have more choices to consider. Some of these ideas might also form the basis for future "Fine Focus" sessions.