Exciting News!
As I write this post the shortlists for the Edublogs Awards have just become available so this means we can now vote. I was so excited and honoured to see that the Edublogs Live webinars have been shortlisted in the "Best Educational Webinar Series" category. If you want to check out the nominations and maybe vote for Edublogs Live webinars then follow the link. Thank you so much to those who nominated!
Introduction
This was a terrific Edublogs Fine Focus session (recording here).  Sue Waters (@suewaters) the Edublogger joined us to share her ideas and strategies relating to one of the topics suggested on our Wallwisher. The topic was "How to manage using more than one Web 2.0 tool at once for education". This was an active and engaging session from start to finish. Sue kept us busy with polls and whiteboards throughout.
The Session
Sue began by asking us which tools we use – the resulting whiteboard was well filled and makes a great Wordle!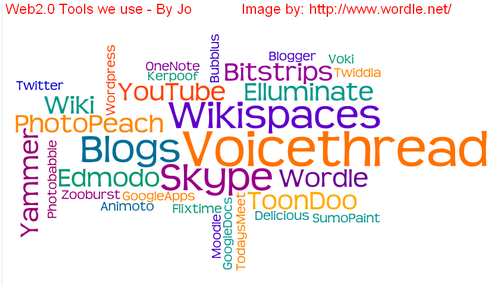 Sue then placed the ball firmly in our court by asking what we wanted to know and then finding out about our own challenges, concerns and strategies that have worked. Next Sue moved on to talk about some general strategies for managing a mix of tools, again she invited whiteboard input from everyone. Then Sue shared some of the strategies used in (@tasteach) Sue Wyatt's Student Blogging Challenge to manage the large number of participants and blog visits needed. Finally Sue shared some of the specific tools and strategies she uses for communicating and managing her huge daily inflow of information and some of those she uses for sharing and networking.
Conclusion
Sue's sessions are always full of activity with lots of whiteboarding and polling as well as text chat and audio contributions. If you missed the session it is well worth catching the recording for all the wonderful nuggets of information from Sue and also from everyone else.
Next Week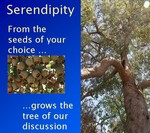 Our next Webinar is an Edublogs "Serendipity" session, one of our fortnightly unconference sessions where we invite you to bring along your "hot topics" and "burning issues" for our poll on the topic of the day. If you want to propose a topic in advance then visit the Serendipity Wallwisher and add your topic. Then join us on Thursday Dec 9th at 23:00 GMT/UTC (6pm USA EST, Midnight BST) or Friday Dec 10th at 1am CEST, 7am West Aus, 10am NSW, depending on your timezone – in the usual Elluminate room.
Advance Notice
Our last session this year on Thursday Dec 16th at 23:00 GMT/UTC (6pm USA EST, Midnight BST) or Friday Dec 17th at 1am CEST, 7am West Aus, 10am NSW, depending on your timezone – in the usual Elluminate room will be the usual End Of Year/Christmas Party. So bring along virtual goodies to share and please get your thinking caps on and devise an Elluminate Party Game for us to play.  If you have an idea but aren't sure how to make it work in Elluminate then put a comment on this post or catch me on Twitter (@JoHart).
In the Future
If you are a regular visitor to our webinars you will know that we alternate "Fine Focus" sessions on specific topics with "Serendipity" the unconference sessions where we choose a topic by poll at the start of the session. Sometimes the very fact of being asked for "hot topics" or other ideas for discussion or learning tends to make our minds blank. This has prompted me to start a Serendipity Wallwisher for topic suggestions. Please visit the wall and add your ideas for Serendipity topics so that we have more choices to consider. Some of these ideas might also form the basis for future "Fine Focus" sessions.