Introduction
As has been the case for the last few months I have not been able to post overviews each week. So this one is a digest of  our webinars over the last few weeks.
Serendipity (1/2 Aug 2013)
This recorded session was a Serendipity session in which considered two topics. We brainstormed some way of enthusing teachers to use technology in class and then moved on to think of "5 minute fun fillers" not necessarily involving technology use.
Fine Focus – digital literacy in an adult ed curriculum
As always this session was recorded. The session was based around content from a recent webinar that I did for our Western Australian State Adult Literacy and Numeracy network. One of the main curricula used for Adult Literacy in WA has recently been re-accredited and now includes many references to digital literacy and digital texts. So I have been presenting a short series of webinars to help adult literacy teachers think about how they might come to grips with the new requirements.
Serendipity 14/15 aug 2013
In this recorded Serendipity session we took a look at supporting older people in using technology and learned about an exciting new free online course in teaching maths available through Stanford University. The course itself is now finished but is intended to re-run from March 2014 and resources from it are being made available on the "youcubed website"
Fine Focus – Playing in the Moderator Sandpit
This was another recorded session in which we took a look at some of the tools available to moderators that can be used to add interactivity to BlackboardCollaborate sessions
Serendipity 28/29 Aug 2013
In this recorded session in response to a participant question we took a look at blogging with a class of students, specifically how to get started in doing this with Edublogs.
Fine Focus – PLN? PLE? How have they changed
As always the session was recorded. We discussed and explored the terms PLN (Personal Learning Network) and PLE (Personal Learning Environment) and considered how these have changed for us as individuals over the last few years.
Serendipity 12/13 Sept 2013
In this recorded Serendipity session we looked at two topics. The first was a guided tour from @jofrei of a series of recent posts on her Sprite's Site which followed the adventures of the Tweetlets during their Work Experience week at the Twitter Stream. Our second topic was a discussion of how we might be able to prepare training materials more efficiently.
Fine Focus – "This house is resolved …"
In this recorded session we did something a little different – I am always trying to come up with different formats and themes for Fine Focus sessions so that we don't have "just a presentation" each week. So on this occasion I had been thinking about some of the controversial statements related teaching and learning with "e" and decided to present four of these for discussion. The four statements were:
Face-to-face conferences are a 'has-been'
BYOD is a fad that wont last
You have to have a 'maths brain' to do maths
Qualifications are outdated, they should be replaced by digital portfolios
All four prompted lively discussion despite considerable agreement on each by the participants.
Serendipity 3/4 Oct 2013
There was no session on 26/27 September so Serendipity was a week later. In this recorded session we briefly discussed four topics:
We are Connected Educators. Anyone feeling the need to do more
What is involved in acting as a volunteer for the Reform Symposium (#RSCON4)
A success story from working for Broadband for Seniors
To share or not to share, how do you decide?
Conclusion
Once again I am finally up to date with posting webinar links. Sorry again for the short session descriptions.
Our Next Webinar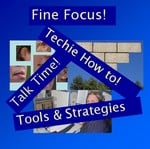 Our next webinar will be an Edublogs "FineFocus" session on Thursday Oct 10th at 23:00 GMT/UTC (Afternoon/Evening USA) or Friday Oct 2th at 7am West Aus, later in the  morning Eastern States Aus depending on your timezone (check yours here) – in the usual BlackboardCollaborate room. In this session we will look at moderator tools from the presenter and session facilitator perspective.