Introduction
A digest of  our recent webinars over the last few weeks. From now on time permitting I hope to return to posting a fuller overview or each webinar every week.
Serendipity 9/10 Jan 2014
In our first, recorded as always, Serendipity session of 2014 we talked about several topics. Often when we are a small group we choose to discuss more than one of the suggested topics. On this occasion we talked briefly about:
Password management programs
Getting organised and planning for the year ahead
Our thoughts about our own most memorable teacher
As sometimes happens one of the topics (password management) generated a lot of interest but none of us had very much knowledge so this became the topic for the following FineFocus with @philhart volunteering to facilitate the session.
Fine Focus (16/17 Jan 2014) – "Password Managers"
This week's fantastic recorded session was a look at the pros and cons of password managers facilitated by @philhart we also shared a variety of links to password managers both cloud-based and downloadable.
Serendipity 23/24 Jan 2014
In this recorded Serendipity session we discussed:
are cheap tablets worthwhile;
illustration programs;
latest e-gadgets
The discussion on cheap tablets centred mainly around features available and intended purpose. Our look at programs we might use for illustrations sent us as always in search of free ones and the discovery of some that were new to us – this has resulted in a couple of us who participated exploring Inkscape In the remaining time we talked briefly about any e-gadgets new to us we had heard about, "played with" recently or that we wish for!
Fine Focus (30/31 Jan 2014) – "Columbus Cheetah Myth Buster"
This was a fascinating, and very interactive, recorded session (the first of two – the second part will be on the 13/14 February). In the session @jofrei shared her extensive knowledge of some of the myths about giftedness. Jo has recently posted a series about busting the myths on "Sprites Site".
Serendipity 6/7 Feb 2014
In this recorded Serendipity session we discussed:
drawing on the PC;
some security issues
We shared some of our recent experiences of using drawing/illustration programs including Inkscape. The discussion on security was mainly about the phishing attempts of the "phone call from "a computer company"" and "email from "your bank"" type that still happen regularly with slightly new twists.
Conclusion
Once again I am finally up to date with posting webinar links. Sorry again for the short session descriptions.
Our Next Webinar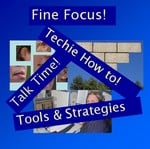 Our next webinar will be an Edublogs "FineFocus" session "Columbus Cheetah Myth Buster II" in which @jofrei will continue her story of myths about giftedness. This session is on Thursday Feb 13th at 23:00 GMT/UTC (Afternoon/Evening USA) or Friday Feb 14th at 7am West Aus, later in the  morning Eastern States Aus depending on your timezone (check yours here) – in the usual BlackboardCollaborate room.