Introduction
This recorded, Fine Focus session presented by Jo Freitag (@jofrei) was fascinating and exciting. Jo coordinates the "Gifted Resources" information service website which includes "Sprite's Site" where Dabrowski's Dogs are regular visitors. She has intrigued us with mentions of Dabrowski's Dogs in a number of sessions so it was particularly exciting to have a session devoted to them.
The Session
Jo started off by finding out where we were coming from on "Dabrowski's Dogs". She then gave as a great list of references so that we could find out more about the overexcitabilities for ourselves at a later stage.
Next we took a look at the dogs themselves as personifications of Dabrowski's overexcitabilities. Jo gave us great character sketches of the dogs and also links to blog posts that explore the characterisitics.
Then it was our turn to do some work. Jo gave us slides on which to brainstorm the positives and negatives of the overexcitabilities in a classroom context and to suggest strategies for managing these.
The first of these slides is shown above. This activity was a great tool for thinking about the impacts of the overexcitabilities in the classroom context and for considering how they might be managed. As well as the whiteboard input there were also ideas shared in text chat. Jo also talked briefly about a teaching unit that can be used to help students better understand themselves.
Finally Jo asked us how we felt at this stage about Dabrowski's Overexcitabilities which gave rise to an additional whiteboard activity for us to express whether we could see echoes of ourselves in the dogs.
Conclusion
This was a fantastic session – full of information and activities and with lots of interesting "homework" in the form of links to visit later. As always I learned much! It seems to me that a virtual classroom might have some advantages over a face-to-face situation for managing some of the negatives (particularly those characterisitics that prove distracting to others) posed by the overexcitabilities.
Next Webinar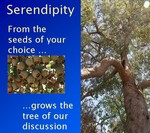 Our next session will be an Edublogs "Serendipity" session on Thursday November 24that 23:00 GMT/UTC (Afternoon/Evening USA) or Friday November 25th at 7am West Aus, mid morning Eastern States Aus depending on your timezone (check yours here) – in the usual Elluminate room. This is one of our fortnightly unconference sessions where we invite you to bring along your "hot topics" and "burning issues" for our poll on the topic.