Preface
If you access the link to the recording it would be great if you would just leave a short comment on this post to let me know. I would really like to know if it is useful to people when I post the overviews & recording links
Introduction
One of those rare sessions where I was not actually there! I was laid low by a migraine and was unable to join this exciting recorded session by Shelly Terrell. So as I have said before "recordings are a wonderful thing" because even though I wasn't there I am still able to write an overview. Phil did a great job on the introductions etc and Shelly was, as always, fabulous! I am so sorry that I missed the live session – I was really looking forward to it and although recordings are great the lack of ability to participate is very frustrating.
The Session
Shelly began with some introductory information and talked about the most simple forms of graphic organiser. She used a simple graphic organiser (GO) format to ask for input from participants on what they already knew about them and then what they would like to know/find out.The "what we already know" made a great Wordle!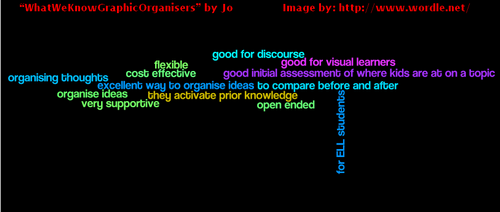 The next part of the session included a variety of ideas on using GO with students – Shelly showed us some great images of mind maps/GO from her students. Shelly then moved on to look at some online GOs especially for mobile use, again sharing brilliant ideas on using these with students particularly for collaborative activities.
Next Shelly used Application Share to share a wiki with links for a wide variety of graphic organisers/mindmapping. This includes paper-based, downloadable, online, rubrics and many extra ideas and resources. Shelly then showed us some of the ones she has used giving a great "flavour" of what is available!
Finally it was a return to the original graphic organiser to complete the "what as been learnt" and "how to find out more" sections.
Conclusion
As is always the case with Shelly's sessions this was terrific! From watching the recording I have learned much more about GOs and how they may be used. The links provided via the wiki are invaluable and once again I have a huge list of things to check out from one of these sessions.
Next Webinar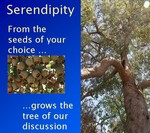 Our next session is an Edublogs "Serendipity" session on Thursday Feb 3rd at 23:00 GMT/UTC (6pm USA EST, Midnight BST) or Friday Feb 4th at 1am CEST, 7am West Aus, 10am NSW, depending on your timezone – in the usual Elluminate room. This is one of our fortnightly unconference sessions where we invite you to bring along your "hot topics" and "burning issues" for our poll on the topic of the day. If you want to propose a topic in advance then visit the Serendipity Wallwisher and add your topic.
In the Future
If you are a regular visitor to our webinars you will know that we alternate "Fine Focus" sessions on specific topics with "Serendipity" the unconference sessions where we choose a topic by poll at the start of the session. Sometimes the very fact of being asked for "hot topics" or other ideas for discussion or learning tends to make our minds blank. This has prompted me to start a Serendipity Wallwisher for topic suggestions. Please visit the wall and add your ideas for Serendipity topics so that we have more choices to consider. Some of these ideas might also form the basis for future "Fine Focus" sessions.