Preface
If you access the link to the recording it would be great if you would just leave a short comment on this post to let me know. I would really like to know if it is useful to people when I post the overviews & recording links
Introduction
In this recorded session the topic we chose by poll at the start – from suggestions by those participating – was avatars and Vokis.
The Session
Most of our discussion was around using Vokis. We all use standard avatars in a range of situations, but most of us were not so familiar with Vokis and their potential. Luckily we had some participants who had either experimented a little with them or who had used them with students. These people were a tremendous asset to the discussion, providing us with the link to the Voki site, great information about the practicality of making Vokis, and brilliant ideas for using them with students.
In this session we did something a bit different – we gave ourselves some homework! This was to make a Voki, post it and let other participants know where to find it. I've been lazy and posted mine in this overview as my image for the post. However to compensate for the laziness I did two Vokis!
Conclusion
This session was great fun apart from me talking too much! We had several participants without microphones so lots of the discussion was through text chat. When this happens I often talk too much as I have discovered that if silences are too long in Elluminate participants often assume their audio has failed. For me this was an extremely useful session that has finally pushed me into trying out a Voki. Something I have been intending to do for ages. I also now have a lot of ideas for using them with my students as a different kind of visual text in addition to ToonDoo which I already use.
Our Next Session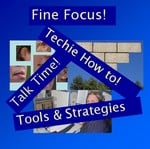 Our next Webinar is an Edublogs "Fine Focus" session.  This week's session "Easy 'tooning with ToonDoo" will be about one of my favourite "toys". We will look at how to use ToonDoo (online cartoon making website) to make cartoons. And also at some ways that it can be used both for learning resources and to engage students in creating visual texts.  Join us on Thursday March 10th at 23:00 GMT/UTC (6pm USA EST, Midnight CET) or Friday March 11th at 7am West Aus, 10am NSW, depending on your timezone – in the usual Elluminate room
In the Future
If you are a regular visitor to our webinars you will know that we alternate "Fine Focus" sessions on specific topics with "Serendipity" the unconference sessions where we choose a topic by poll at the start of the session. Sometimes the very fact of being asked for "hot topics" or other ideas for discussion or learning tends to make our minds blank. This has prompted me to start a Serendipity Wallwisher for topic suggestions. Please visit the wall and add your ideas for Serendipity topics so that we have more choices to consider. Some of these ideas might also form the basis for future "Fine Focus" sessions.