Preface
If you access the link to the recording it would be great if you would just leave a short comment on this post to let me know. I would really like to know if it is useful to people when I post the overviews & recording links
Introduction
For this recorded session the topic chosen was from the Wallwisher and was on best presentation practice, however as we were a small number we diverged from this and discussed and shared examples of  the options we use ourselves.
The Session
We started the session by sharing (on the whiteboard) some of the ways that we present our information to others. With a small group these were inevitably limited in number, as I think most people have preferred tools and styles of presentation and will usually use those if practicable.
We moved on to discussing and sharing (through application share) some of our own personal examples of how we present information eg interactive PowerPoint, webpages with embedded links and customised Elluminate whiteboards developed on a PowerPoint base.
Conclusion
This session was great for gaining insights and ideas from how others present information. My takeways include a need to learn how to make the internal interactives work in Powerpoint and also to take a closer look at using a web page as the thread to link a series of information presentations.
Our Next Session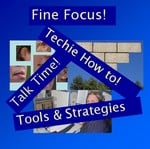 Our next Webinar is an Edublogs "Fine Focus" session. This week's session  "Blog or Wiki? Pros and Cons" will be an opportunity to discuss the pros and cons of blogs and wikis as tools for different learning situations. Do you know the difference? Do you want to use either or both? Do you currently use either or both? Come along – share how and why & discover how others use them. Join us on Thursday Feb 10th at 23:00 GMT/UTC (6pm USA EST, Midnight CET) or Friday Feb 11th at 7am West Aus, 10am NSW, depending on your timezone – in the usual Elluminate room
In the Future
If you are a regular visitor to our webinars you will know that we alternate "Fine Focus" sessions on specific topics with "Serendipity" the unconference sessions where we choose a topic by poll at the start of the session. Sometimes the very fact of being asked for "hot topics" or other ideas for discussion or learning tends to make our minds blank. This has prompted me to start a Serendipity Wallwisher for topic suggestions. Please visit the wall and add your ideas for Serendipity topics so that we have more choices to consider. Some of these ideas might also form the basis for future "Fine Focus" sessions.