Wow! This was a session with a buzz! The Teaching to the test vs teaching to the learner's needs debate is one of those perennial topics that always gives rise to a terrific discussion. Made even better by @philhart's excellent facilitation, you should definitely catch the recording!
I don't think Phil will mind me saying that he was a bit nervous. We have co-facilitated lots of times but usually with myself as lead doing most of the talking or in "Techie How To!" sessions where we took a section each. This was the first time that Phil had initiated and facilitated a discussion session, and in my possibly biased opinion he did a great job!
Phil has already posted about his feelings on the session  so it falls to me to give a bit of an overview.  The session included several polls and lots of whiteboard brainstorming, this combined with the strong contributions through text chat and audio made for a highly interactive session.  Whiteboards with stimulus questions were quickly filled with thoughts and ideas with the pace maintained by using the timer. This is not really the place to put up all those whiteboards but to whet your appetite for the recording I have made a Wordle  for one of them.  The question was looking for personal reasons for teaching to learners'needs.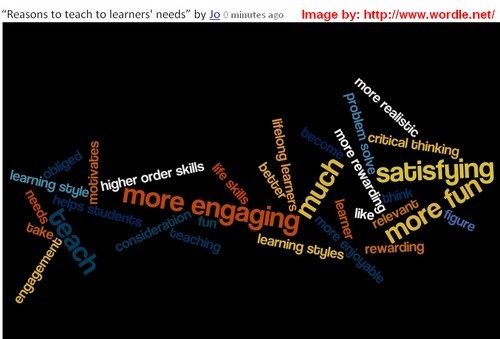 Feedback at the end was very positive and everyone seemed to enjoy the session immensely.
Our next Webinar is an Edublogs Serendipity – unconference session so bring along your hot topics and burning issues and throw them into the melting pot for the poll to choose our topic in the first ten minutes.
Join us here in Elluminate on Thursday February 18th at 23:00 GMT (6pm USA EST, Midnight CET) or Friday February 19th at 7am West Aus, 10am NSW, depending on your timezone.
.