Introduction
Three overviews in one this week. At the moment I seem to have no time for anything and so once again the previous two week's webinar overviews were postponed.
(For the link for live webinars and info about the times and topics scroll to the bottom of this post).
E-publish or be e-damned!
In this recorded session Phil  led us through some of the tangled web of e-books, beginning with some discussion on what they are.
From the plethora of formats (file types) and different publisher standards that Phil told us about, it seems that the world of e-books/e-publishing is at that stage in development where the publishers are attempting to "lock in" both writers and readers to their particular format. They are fighting to corner the market so that eventually almost everyone will be working with one format – that of the "winning" publisher who will "own" that format!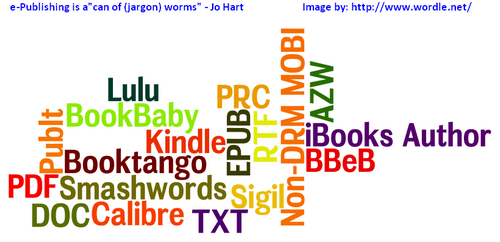 Phil moved the discussion on to consideration of e-books/e-publishing from the perspective of the author looking at factors around: saleability, preparation format – prepare in a common format and convert or author directly in the format for publishing. We also took a look at deciding on a publisher/format.
Producing a great (and successful) e-book is not just about having great ideas and content. Understanding the medium, having some knowledge of mark-up languages, presentation and marketing are all  important and the whole process can be hard work!
A great session which certainly made me much more aware of the ramifications of e-publishing and also very conscious that many e-books are not presented or sometimes even written particularly well. Perhaps e-books are currently in a similar stage of development to that of Science Fiction as a genre in the era of the "pulp" SF magazines last century!
Serendipity – what are, and how we use, wikis
This was a very lively recorded session with lots of audio and text chat interaction and not much on the whiteboard, though we did share some wikis and blogs through AppShare.
Initially we tried to get some clarity on wikis. I remember my own early confusion with wiki and Wikipedia when I first came across wikis and this is potentially even worse now with a multitude of online projects prefixed by the work "wiki" giving a variety of different impressions of what wikis are about.
Discussion then moved on to uses of wikis in a teaching contexts with some sharing of wikis and later blogs by participants to show how they are being used. There was a lot of side discussion ranging across many related topics particularly with reference to blogs. I think that the functional crossovers between wikis and blogs make it almost inevitable that if you discuss one you will also include the other.
A true Serendipity session with lots of serendipitous discovery as well as the chosen topic exploration.
Don't lose your data!
As always we recorded this session and my personal opinion is that this is a "must" for anyone who has ever lost any data – and that means all of us! Again this session was led by @philhart who gave us fantastic insights into risks to our data and some of the ways to combat these. When Phil is not involved in edu activities he is a computer consultant who works with a variety of personal and business clients often advising on data preservation strategies as well as developing software.
Phil kept us busy throughout the session starting with a few questions to get us thinking about what we understand by the terms "data", "risk" and "consequence". We then moved on to consider the possible impacts on ourselves of losing data with consideration of where we keep our data and what risks we ourselves see.
Then Phil moved on to discuss some of the detail of what he sees as the three primary risks to our data: theft, loss and corruption. The risks can't be eliminated entirely but we can control them to some extent. We need to do what is effectively a cost/benefit analysis where we balance the likely "cost", not necessarily in material terms, of data loss against the "cost" of backing up.
Phil asked us what we do for our own data security – for most of us the focus was on some degree of backing up to reduce the "loss" element of the risk without much upfront consideration of the other . However it was interesting that when Phil shared his own strategy this was a blend which addressed all three areas of risk much more broadly!
To finish Phil asked us what we might do differently in the light of this session – for most of us this seemed to be a variation on the theme of find out more about what we already have and do more backups!
I found this session incredibly useful – despite living with "a backup obsessive" ie Phil it still opened my eyes to more risks that I need to consider!
Conclusion
Three fantastic sessions! I enjoyed all of these as always. I particularly enjoy sessions where someone else is the main facilitator. If you have something to share please let us know (add a comment to this post, or Tweet us – @JoHart or @philhart) and then join us to facilitate a session about your e-edu passion! If you are not familiar with BlackboardCollaborate we can help you plan how best to do your session so it works for you.
Our Next Session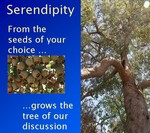 Our next Webinar is an Edublogs "Serendipity" session where we invite you to suggest your "hot" topics for discussion – we then select the topic by poll.  Join us on Thursday September 13th at 23:00 GMT/UTC the time for you will vary depending on your timezone (check yours here) Thursday afternoon/evening in the USA, late night Thursday in Europe, and Friday morning September 14th in Australia – in the usual Blackboard Collaborate virtual room.