Introduction
This recorded Edublogs Fine Focus session followed the recent Google theme. This time it was my turn, the topic was iGoogle and how it provides the hub of my Personal Learning Environment (PLE)
The Session
I very much enjoyed this session as I  love to "play" with Elluminate and always like to share the various Web2.0 tools that I find useful.
The main aims of the session were to:
check we all had some idea about what iGoogle is
explore its use as the hub for a PLE
look at how the PLN strands can be drawn together on iGoogle through a variety of  available gadgets.
We made use of polling and whiteboard in the early stages of the session. However I mostly used Application Share to show everyone how I use iGoogle as the meeting point for all the strands of my PLN and my "e-life". Then we took a look at how the new pages can be created and personalised with themes and chosen gadgets. During this section I handed control of my desktop to others so that they could add gadgets to one of my pages. As always I tried to pick up on questions in text as we went, but also asked for them after the Application Share ended. Finally we did a round up of "take-aways followed by feedback.
Conclusion
This was a fun session from my perspective and seemed to be enjoyed by all. My greatest satisfaction as always is when people have "take aways" that they feel will be useful to them and there were a number of these from this session.
Next Week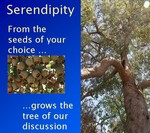 Our next Webinar is an Edublogs "Serendipity" session, one of our fortnightly unconference sessions where we invite you to bring along your "hot topics" and "burning issues" for our poll on the topic of the day. If you want to propose a topic in advance then visit the Serendipity Wallwisher and add your topic. Then join us on Thursday Oct 14th at 23:00 GMT/UTC (7pm USA EST, Midnight BST) or Friday Oct 15th at 1am CEST,7am West Aus, 10am NSW, depending on your timezone – in the usual Elluminate room
In the Future
If you are a regular visitor to our webinars you will know that we alternate "Fine Focus" sessions on specific topics with "Serendipity" the unconference sessions where we choose a topic by poll at the start of the session. Sometimes the very fact of being asked for "hot topics" or other ideas for discussion or learning tends to make our minds blank. This has prompted me to start a Serendipity Wallwisher for topic suggestions. Please visit the wall and add your ideas for Serendipity topics so that we have more choices to consider. Some of these ideas might also form the basis for future "Fine Focus" sessions.