Introduction
This session was really exciting! With "The Reform Symposium (#RSCON3)" coming up in a few weeks we were joined by several of the presenters looking to increase their Elluminate experience before the conference. The session was one of our semi-regular ones that focus on using Elluminate and on this occasion we took a "roller coaster ride" through some of the tools and features from the moderator perspective.
The Session
This was a fast moving, highly interactive and participative session. The overview can really only give a taste of events!  Catch the recording for the full flavour of this lively session.
This was very much a participant led session in terms of direction. I had "How to" slides and examples available for a wide variety of Elluminate tools and strategies in case they were needed. We started with a whiteboard for people to indicate what they wanted from the session. This and the questions throughout the session determined what slides were used and what we did!
Initially we took a quick look at setting up your screen to suit you, the importance of doing an audio check especially if you are going to be presenting or speaking at all, and at the most used of all the Elluminate features – the whiteboard.
The next part of the session was to make everyone moderators so that they could see all the moderator tools. After this the questions and activities came thick and fast. During the rest of the session we briefly explored (giving opportunities to "play" where feasible) many of the features of Elluminate that make it such a great webinar platform. Time just flew by so that we over-ran our usual end time.
We finished with some quick feedback polls which were entirely positive about the sessions and finally as usual a whiteboard for our best "takeaways" from the session.
Conclusion
This was a fantastic session! I really love these sorts of sessions where I am having to "think on my feet" to try and keep up with the pace of the action, answer everyone's questions and step through tools on request. As always this was a terrific learning experience for me – I have my own "takeaway" which I didn't put on the board at the end because I was answering questions. This is an improved understanding of how the whiteboard works with live links – for which many thanks to Rodney (@techyturner)!
Next Webinar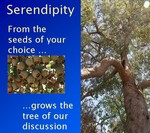 Our next session is an Edublogs "Serendipity" session on Thursday July 7th at 23:00 GMT/UTC (Afternoon/Evening USA) or Friday July 8th at 7am West Aus, mid morning Eastern States Aus depending on your timezone (check yours here) – in the usual Elluminate room. This is one of our fortnightly unconference sessions where we invite you to bring along your "hot topics" and "burning issues" for our poll on the topic of the day.