Introduction
In this Edublogs Fine Focus session (recording here) Jane Curry (@parrpakala on Twitter) introduced us to the way she is using Facebook to enhance and improve the learning experience for "English as a Second Language" learners. This was an exciting session not only because of the way that Jane is incorporating Facebook but because she also included some of her students in the session. Jane teaches English as a second language at Swinburne TAFE (public vocational education) in Melbourne,  Victoria, Australia. Jane's students are migrants/refugees. Migrants to Australia have an entitlement to some  English language classes when they arrive. The programme usually used is the Certificates in Spoken and Written English (CSWE). This is multi level and outcomes based, students need to demonstrate that they can read, speak and write to the relevant level. So any opportunity to practise reading, writing or other forms of communication in different ways is very welcome.
The Session
Jane started the session by telling us a little about her students and their backgrounds. Facebook is a relatively recent introduction, the students also participate in a class blog. Jane talked about her reasons for using Facebook and also some of the advantages in that it allowed easy communication between the students, volunteer mentors and lecturers. It was also easy for two organisations, CMY and Foundation House that provide support for the students, to join in through Facebook. Jane shared her desktop to show us the group's Facebook page …
and also demonstrated how she uses live chat with her students. There were a variety of questions and ideas raised in text chat around the practicalities of using Facebook particularly with second language learners and privacy issues relating to its use. Jane responded to these during the session. The highlight was when two of Jane's students bravely joined her at the microphone and answered some questions from us about: where they were from; what they though about using Facebook; and whether they had Facebook friends elsewhere.
Conclusion
This session was very exciting as it is the first time we have had students taking part in this way and I think that both Jane and her students were very brave to be prepared to do this. Jane did a great job, she has not had the opportunity to join many sessions as her class coincides with webinar times and this was her very first session as a moderator. As always this overview gives only a taste of the session. For the full "flavour" catch the recording.
Next Week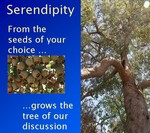 Our next Webinar is an Edublogs "Serendipity" session, one of our fortnightly unconference sessions where we invite you to bring along your "hot topics" and "burning issues" for our poll on the topic of the day. If you want to propose a topic in advance then visit the Serendipity Wallwisher and add your topic. Then join us on Thursday Nov 11th at 23:00 GMT/UTC (6pm USA EST, Midnight BST) or Friday Nov 12th at 1am CEST, 7am West Aus, 10am NSW, depending on your timezone – in the usual Elluminate room
In the Future
If you are a regular visitor to our webinars you will know that we alternate "Fine Focus" sessions on specific topics with "Serendipity" the unconference sessions where we choose a topic by poll at the start of the session. Sometimes the very fact of being asked for "hot topics" or other ideas for discussion or learning tends to make our minds blank. This has prompted me to start a Serendipity Wallwisher for topic suggestions. Please visit the wall and add your ideas for Serendipity topics so that we have more choices to consider. Some of these ideas might also form the basis for future "Fine Focus" sessions.