Introduction
This was a fantastic session by Sue Waters (Edublogs Support Manager) who is well known to so many of us as @suewaters on Twitter and through her terrific posts on The Edublogger. As always with Sue's sessions this one was very interactive with lots of discussion and ideas shared through whiteboards, textchat and audio.
The Session
As usual we recorded the session (please let me know if you access it). After introductions Sue began with a poll to checkout how many of us were already using RSS and/or a personalised home page. A higher proportion of participants were using a personalised homepage than were using RSS.
Next Sue sought ideas from the group about our perception of  RSS – this led to discussion about the name itself and its lack of clarity for most of us. There was a general feeling that Really Simple Syndication was in itself a confusing name and a consensus that it would have been more comprehensible if the name was Really Simple Subscription. I certainly found it totally confusing when I first met it but finally realised that the "Syndication" part of the name was probably derived from the news industry sharing of stories to different outlets.
Sue then made the logical progression from: now we know what RSS is; to how we might use it.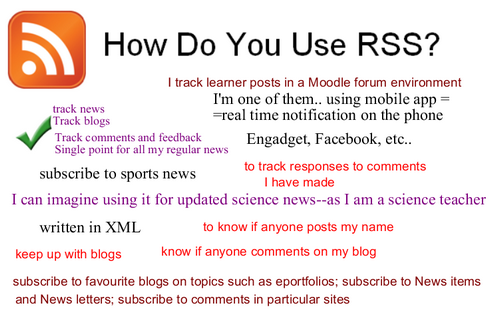 These points then formed the basis for a more detailed look at how RSS can be used. Sue also Application Shared her own RSS feed to illustrate her explanations and to show us how easily feeds can be added and organised.
Sue made references to using a personalised homepage such as iGoogle to manage RSS and any other feeds, links and  information. We had a FineFocus session on using iGoogle as a personalised homepage late last year.
Conclusion
I so enjoyed this! I always love Sue's sessions because there is always so much interactivity and so much to learn. I have been using RSS for quite a long time although in a very low key way, and I gained new insights and tips. As always I took away ideas, eg using a search of my feed for information and things to explore further eg NetVibes.
PS if you are interested in finding out more about a range of Web2.0 Tools checkout the  Edublogs Teacher Challenge on Free Tools including my challenge on using PhotoFiltre for image editing.
Next Webinar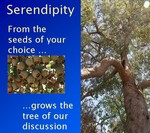 Our next session is an Edublogs "Serendipity" session on Thursday April 14th at 23:00 GMT/UTC (Afternoon/Evening USA) or Friday April 15th at 7am West Aus, mid morning Eastern States Aus depending on your timezone (check yours here) – in the usual Elluminate room. This is one of our fortnightly unconference sessions where we invite you to bring along your "hot topics" and "burning issues" for our poll on the topic of the day. If you want to propose a topic in advance then visit the Serendipity Wallwisher and add your topic.
In the Future
If you are a regular visitor to our webinars you will know that we alternate "Fine Focus" sessions on specific topics with "Serendipity" the unconference sessions where we choose a topic by poll at the start of the session. Sometimes the very fact of being asked for "hot topics" or other ideas for discussion or learning tends to make our minds blank. This has prompted me to start a Serendipity Wallwisher for topic suggestions. Please visit the wall and add your ideas for Serendipity topics so that we have more choices to consider. Some of these ideas might also form the basis for future "Fine Focus" sessions.