An occasional issue that I have found arising with Elluminate is when one of the tools or modules doesn't work properly. If this happens you may find that emptying the Java cache solves the problem. This is also a potential solution to any situation where Elluminate seems to be "behaving" oddly. I have found it to be a good initial troubleshooting activity when students encounter any problems as it is quick and easy to accomplish.
To empty the Java cache (from a windows operating system), close Elluminate if you are currently in a session.
i) Go to Control Panel (switch to classic view)
ii) Find Java and open the Java control Panel
iii) Select the General Tab
iv) Ensure that the space for temporary file storage is set to 1000 MB
v) In "Temporary Internet Files" select Settings
vi) In "Temporary Files Settings" click on Delete Files
vii) Ensure that:
Applications and Applets
Trace and Log Files
are both ticked
viii) Click OK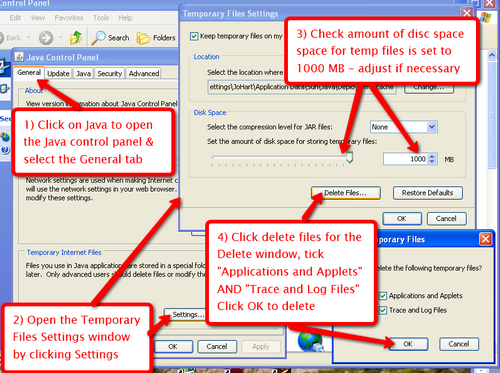 ix) Close down and then restart the computer – it may take some time to reload all the Java files when you restart and re-enter Elluminate.