Introduction
This Fine Focus session was really a spin-off from last week's Serendipity session where we touched on using Twitter with students but didn't really have time to explore the issues. This was a great session with lots of whiteboard activity and as usual the session was recorded.
The Session
Although the session title refers to "social media" this is such a massive topic that I focussed on social networking with students and chose what are probably the two most well known and widely different from one another social networks – Twitter and Facebook. I then added in GooglePlus because although this is very new I suspect it will ultimately be extensively used with students because of the way circles can be used.
We started with some polling to find out where everyone was "coming from" on using social networks with students. Next we set the scene with a brief look at some recent items on social netwroks with students including two short videos. This led on the the quesion of whether we should use this type of tool with students – the poll result was a resounding "Yes" and we quickly filled a whiteboard with the positives and negatives.
The next considerations were the contexts and circumstances in which we might use social networking with our students. This was followed by sharing how (if we currently do) we use one or more of these with students. We finished with a poll on whether we now felt it was more likely that we would use these with students. There is also a slide with live links for the videos and some other items of interest for social networking with students.
Conclusion
This session worked well – it followed a similar pattern to most of the other discussion type topics that I facilitate in Fine Focus sessions. As is often the case I felt that I talked too much, however everyone seemed to enjoy the session. The use of video was something I don't do often – although I have recently been showing colleagues how to incorporate it via the multimedia window. It worked fairly well although the videos did not play for one participant despite being mp4 and so likely to be playable by the majority of people. This is one of the reasons that I tend to avoid video the other is bandwidth and download time issues. Even though both videos were small files they still took considerable time to download to participants after they joined the room, so it isn't a good idea to play videos very early in the session. However I will be trying to include more video because I feel it is something I need to become more familiar with.
Next Webinar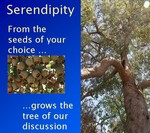 Our next session is an Edublogs "Serendipity" session on Thursday September 15that 23:00 GMT/UTC (Afternoon/Evening USA) or Friday September 16th at 7am West Aus, mid morning Eastern States Aus depending on your timezone (check yours here) – in the usual Elluminate room. This is one of our fortnightly unconference sessions where we invite you to bring along your "hot topics" and "burning issues" for our poll on the topic