Preface
If you access the link to the recording it would be great if you would just leave a short comment on this post to let me know. I would really like to know if it is useful to people when I post the overviews & recording links
Introduction
This was a great session with a lot of sharing and plenty of  "take aways" and insights into how and why people use blogs and wikis in their teaching. We had a really good blend of audio contributions, text chat and whiteboard interactions with lots of links shared in text and through web tour.  We did a session once before (in late 2009) comparing Nings, Blogs and Wikis and I have found the recording link and added it towards the end of the post. So this week you get two recordings for the price of one!
The Session
As usual the session was recorded and we started with a look at what participants would like to gain from the session
and also a look at where everyone was coming from in terms of using blogs or wikis both with their students and for their own use. Interestingly all participants in the room at that point used blogs but not wikis for their own professional development and/or resource sharing with other teachers.
We then moved on to take a look at some of the reasons for choosing either a blog or a wiki and how these characteristics relate to each of the two tools.  Next we shared through whiteboard text and some fascinating audio input some of the reasons we use blogs and/or wikis with our students. From my personal perspective it seems that the characteristics are increasingly overlapping with time as the providers of these tools expand the available  options for users and also as users become more inventive and knowlegable about them.
Although the session was about blogs and wikis we also took a brief foray into alternatives to these as there are an increasing number of alternative ways of publishing on the Internet for both public and closed group contexts.
We moved on to web tour a few great examples of blogs and wikis used for specific purposes including: information and "how to" sharing blogs; blended reflective life and work blog; professional and personal development blogs; multiple author blog; resource sharing wiki; and collaborative planning wiki. If you checkout the recording the links for these are live on the relevant whiteboard and there are many other shared links in text chat.
Lastly we took a look at what we might do as a result of the session followed by feedback and "take aways".
Here for anyone who is interested is the recording link for the session comparing Nings Blogs and Wikis that we did back in late 2009 – when Nings were still free!
Conclusion
We had a really good blend of audio contributions, text chat and whiteboard interactions with lots of links shared in text and throughweb tour, so if you missed this session it is well worth catching up through the recording. Also interesting to compare with the older session from 2009.
Next Webinar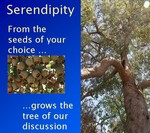 Our next session is an Edublogs "Serendipity" session on Thursday Feb 17th at 23:00 GMT/UTC (6pm USA EST, Midnight BST) or Friday Feb 18th at 1am CEST, 7am West Aus, 10am NSW, depending on your timezone – in the usual Elluminate room. This is one of our fortnightly unconference sessions where we invite you to bring along your "hot topics" and "burning issues" for our poll on the topic of the day. If you want to propose a topic in advance then visit the Serendipity Wallwisher and add your topic.
In the Future
If you are a regular visitor to our webinars you will know that we alternate "Fine Focus" sessions on specific topics with "Serendipity" the unconference sessions where we choose a topic by poll at the start of the session. Sometimes the very fact of being asked for "hot topics" or other ideas for discussion or learning tends to make our minds blank. This has prompted me to start a Serendipity Wallwisher for topic suggestions. Please visit the wall and add your ideas for Serendipity topics so that we have more choices to consider. Some of these ideas might also form the basis for future "Fine Focus" sessions.