The first of two related posts about using Application Share (App Share) in Elluminate sessions.  This post is about our recorded Edublogs webinar this week which focussed on avoiding "death by Application Share presentation" in Elluminate sessions. In other words it was about using App Share in a way that allows interactivity rather than just as something for participants to watch. The second post will be about the mechanics of App Share and some of the strategies I use.
As usual we had global participation although this week there were more Australians in the session – probably due to Steve Hargadon's initiative regarding the Australia Series on LearnCentral and the fact that we are trying to be organised enough to put sessions on the Australia Series events calendar in LearnCentral and on the Events Calendar in The Educator's PLN Ning as well as in the usual place on the Edublogs Live Events Calendar at the bottom of the Live Events page.
The session was great fun! Everyone was lively and vocal (both on audio and in text chat) and also very willing to experiment – this always makes for excellent sessions with lots of ideas exchanged. We started with a look at where everyone was coming from with respect to Application Share. Followed by a look at the AppShare menu to indicate which items we were going to explore – this included giving and taking control of remote desktops and a quick overview of the different ways of sharing applications on Elluminate.
We spent a little time on the pros and cons of the different options for sharing and also on some of the possible issues that can arise. Then it was playtime! My absolute favourite part of all these sessions is the time when we try out features of Elluminate that make it a great tool for interactivity. We did this mainly through sharing my desktop in different ways and giving everyone an opportunity to take control of my desktop and work on it remotely. The first opportunity was an icebreaker game that I use to give people practise at using a mouse on a remote desktop, and the second was for people to use my desktop to Tweet live from my Twitter account on my desktop.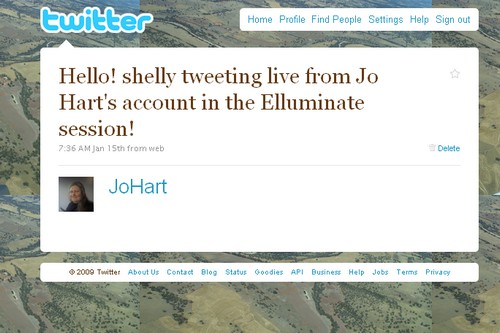 Everyone did brilliantly – the first time you work on someone else's desktop it is always a bit difficult because there is an inevitable lag. However this posed few problems for the group as they demonstrated their great remote control skills!. As the person whose desktop is being remote controlled you have to keep your hand well away from the mouse or you end up fighting for control – this can lead to much hilarity but can also be very frustrating for the remote controller who is being hijacked.
To finish off the session we had some feedback to help us in the future and also asked for topics of interest that we might address in future sessions.
Next week we have an Edublogs Serendipity – unconference session so bring along your hot topics and burning issues and throw them into the melting pot for the poll to choose our topic in the first ten minutes.
Join us – depending on your timezone – on Thursday January 21st at 23:00 GMT (6pm USA EST, Midnight CET) or Friday January 22nd at 7am West Aus, 10am NSW. On Elluminate as usual in the Edublogs Elluminate room