Introduction
This was one of those small but very active sessions (recording here) where the blend of text, whiteboards and audio was almost seamless with all three being used in the conversation. The best way to checkout this session is to catch the recording.
The session
We started with some discussion on what we understood by the term Web 3.0. This included references to:
semantic tagging;
small, fast, customisable, virally distributed applications
contextual, tailored, predictive searching
deductive reasoning "intelligence"
The discussion moved on with most of the focus being on the issues around the tagging, searching and "intelligence" aspects. Particular concerns were expressed about the impacts and influences of this type of search on independence of mind and thought.
Conclusion
This session was very thought provoking and more thoughts and implications are still striking me some days after the session. I suspect this is very much a theme for further exploration in a Fine Focus discussion in the not too distant future.
Next Week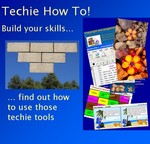 Our next Webinar is an Edublogs "Fine Focus!" session a "Techie How To" – "Introducing  Scratch" from guest presenter Carl Bogardus (@weemooseus). Carl will give us an introduction to using Scratch. An easy to use programming language that you and your students can use to create and share your own interactive stories, animations, games, music, and art.
Join us on Thursday June 17th at 23:00 GMT/UTC (7pm USA EST, Midnight BST) or Friday June 18th at 1am CEST,7am West Aus, 9am NSW, depending on your timezone – in the usual Elluminate room
.