Introduction
Despite my best intentions I didn't succeed in doing the overview for our most recent FineFocus webinar. So this overview is of that "Sharing our Pecha Kuchas"webinar and the Serendipity session from the following week.
Sharing Pecha Kucha
This session, recorded as always, was great fun! Over the past few weeks we have talked several times about Pecha Kucha and this session consisted mainly of sharing three very different first attempts at  Pecha Kucha and then discussing the challenges and the way we had each approached the development.
The three sessions were "Mad About Maths" by @philhart, "The Gifted Tweet Family" by @jofrei and "About the Webinars" by myself.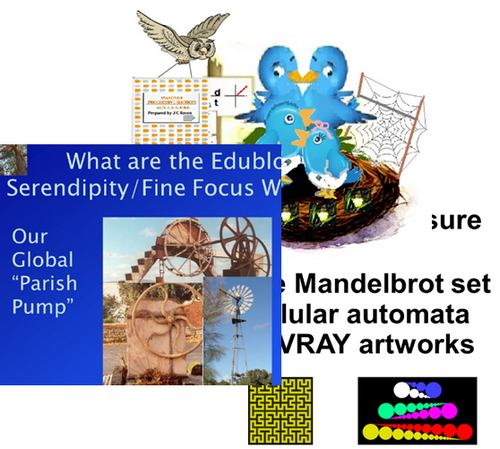 These were totally different from one another in content, content purpose, style, and in the way we each approached the development. The recording is definitely worth catching
Serendipity – "personal hubs" could Symbaloo or others replace iGoogle?
This week's topic in our recorded Serendipity webinar was generated by the news that Google is closing down iGoogle. This was at the front of my mind when we started the session and so I suggested the topic. The preliminary chat gave a consensus to talk about this and the possiblity of using Symbaloo or similar as an alternative.
We looked at Symbaloo through an AppShare and discussed its uses briefly, this led to a short exploration of Sqworl which is also a visual bookmarking tool. Definitely one to explore in the future! The discussion moved on and I shared my own personal iGoogle to illustrate the many feeds and other content that I draw together into one place. Because I have used iGoogle for several years to help me manage content, feeds and links (anywhere, anytime and anydevice) and I have so many things in one place I think it will be hard to find a replacement. Another possiblity suggested was Chrome, again probably worth exploring, but of no use for this purpose if you have to have the Chrome browser installed first.
I have seen other alternatives suggested although we didn't look at these – they include MyYahoo, Netvibes and Pageflakes. I am currently exploring the first two of these but haven't worked out how to get GoogleReader to feed in (if anyone knows please let me know how). When I tried to access the third of them I could not as it was too busy so I have abandoned that one!
Our Next Session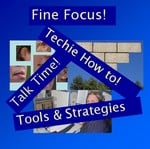 Our next Webinar is an Edublogs "Fine Focus" session where Michael Graffin  the Coordinator of The Global Classroom Project (#GlobalClassroom) will be sharing this year's GlobalClassroom experiences. Join us on Thursday July 12th at 23:00 GMT/UTC the time for you will vary depending on your timezone (check yours here) Thursday afternoon/evening in the USA, late night Thursday in Europe, and Friday morning July 13th in Australia – in the usual Blackboard Collaborate virtual room.