Introduction
This was one of those occasional sessions where I am writing the overview post from the recording  of this Serendipity session. I was laid low by a migraine! So Phil went "solo" doing a fantastic job as Moderator/Facilitator. On hearing the recording I was so sad to have missed this exciting session about something very close to my heart. The chosen topic in full was "Would teachers value professionals from the real world of work in the classroom to reinforce applied learning?"
The Session
This was a great session although for me as always when I listen to a recording rather than attend a virtual session of any sort it was somewhat frustrating! I kept wanting to type in text and on the whiteboard and trying to put up my virtual hand :).
The session started with a whiteboard of some initial thoughts. These included: clarification of the meaning of "applied learning" in this context; and some examples.
The first whiteboard  generated discussion that led to a second whiteboard about visiting experts – their presence or non-presence and their roles.
Again much more discussion took place with consideration of attracting learners into skill shortage areas, and reference to teaching for jobs that currently don't exist through transferrable skills. This is a part where I so wanted to join in as I have a "bee in my bonnet" about transferrable skills and the need to teach generic rather than specific tool use, and of course critical thinking. Although I have a caveat on this because in my professional judgement not all students can learn critical thinking – we can't all learn everything there are some things for each of us that we lack the capacity to learn! For me one of these is anything music related!
Conclusion
I really wish I had been there – I always hate to miss a session and in this one there were so many times when I wanted to join in! As a literacy/numeracy lecturer in Public Vocational Education (Australian TAFE) I am is a system that is based on experts from the real world of the industry or profession doing the teaching. However I often feel that the whole system focuses too much on industry expertise & not enough on the skills to facilitate learning. For me the use of team teaching and/or inclusion of guests still working in the industry is a great potential solution.
Our Next Session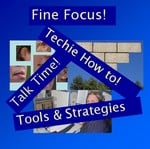 Our next Webinar is an Edublogs "Fine Focus" session. "A Moderator Sandpit" In which we will discuss and "play with" BlackboardCollaborate from the Moderator perspective.  Join us on Thursday April 19th at 23:00 GMT/UTC the time for you will vary depending on your timezone (check yours here) Thursday afternoon/evening in the USA, late night Thursday in Europe, and Friday morning April 20th in Australia – in the usual Blackboard Collaborate virtual room.