Introduction
This weeks Edublogs Serendipity "unconference" webinar (recording here) was lively and full of great contributions from participants through audio and chat as well as on the whiteboard.
Overview of the Session
The topic of choice by a good margin was "useful suggenstions for Web2.0 Tools employed in the classroom". We approached this by asking for favourites to be put on the whiteboard resulting a rapidly filled space and the potential for a great Wordle!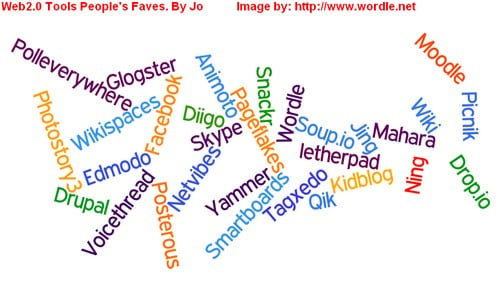 We then invited people to talk about those they had added to the whiteboard. This led to some great contributions about what the tools can be used for and examples of how they are being used in class. Of course we ran out of time and it just wasn't possible to look at all the tools. However it's a terrific list of tools to explore with more (and some links to other lists of tools) mentioned in the blended audio and text chat conversation as you will hear/see in the recording.
Overall a very interactive session which provided much food for learning and seemed to be enjoyed by all!
Next Week
Our next Webinar is an Edublogs "Fine Focus!" session a mix of "Talk Time" and "Tools and Strategies" where we will compare issues and strategies around classroom management in the face to face and virtual contexts in "Students are students – real or virtual!"
Join us on Thursday May 6th at 23:00 GMT/UTC (7pm USA EST, Midnight BST) or Friday May 7th at 1am CEST,7am West Aus, 9am NSW, depending on your timezone – in the usual Elluminate room
.