Introduction
For this exciting  recorded unconference session Tracy Watanabe (@tracywatanabe), who is Technology Integration Specialist at Apache Junction USD in Arizona, was our guest facilitator. Tracy is a regular attendee at both Serendipity and Fine Focus sessions and did a great job in keeping the session flowing smoothly and picking up on questions in textchat. A number of Tracy's colleagues participated actively in the session and for most I believe it was their first webinar!
The Session
The session followed the usual Serendipity format with a whiteboard for topic ideas from participants and then a poll to choose the topic for discussion. The clear winner this week was project based learning (PBL)
This session had a great blend of textchat, audio and whiteboard contributions beginning with a whiteboard and discussion about ideas for projects that could form the basis of project based learning in difference disciplines. Participants shared examples of how they are using PBL with their students.
We moved on to discuss assessment of PBL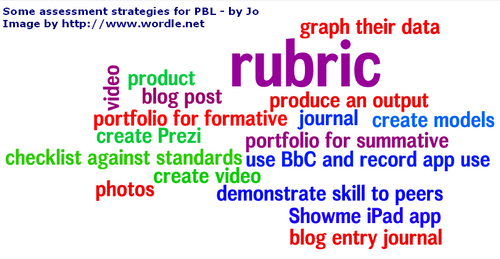 Again this generated lots of ideas, some captured on the whiteboard, others through textchat and audio. Comments from others brought home to me how lucky I am to be in the outcomes based Vocational Education sector here in Australia. Standardised testing is not something we have to do! Our students have to meet standards but the emphasis is on being able to demonstrate that they can do something and that they have the necessary knowledge to do this in a work context. Having said that, we are still bound by "curriculum" and time constraints into teaching/training to meet outcomes rather than to develop our learners.
Conclusion
This was such fun! I love it when someone else is the primary facilitator because it gives me a little time to participate in the session so I can add my "two penn'orth" ("two cents worth"). This was a great ideas sharing session where the diversity of participant experience ranging all the way from primary to adult education, of sector (school, non-formal and vocational education) and jurisdiction (Australia and USA) gave rise to a variety of project ideas and assessment strategies.
Our Next Session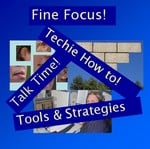 Our next Webinar is an Edublogs "Fine Focus" session, in which Jo Freitag (@jofrei) will tell us about "Dabrowski's Dogs"  Join us on Thursday November 17th at 23:00 GMT/UTC the time for you will vary depending on your timezone (check yours here) Thursday afternoon/evening in the USA, late night Thursday in Europe, and Friday morning November 18th in Australia – in the usual virtual room